For many people, Baskin Robbins is a beloved ice cream parlour with the iconic slogan of "31 flavours." But for those who follow a halal diet, it raises an important question: Is Baskin Robbins halal? The answer to this depends on individual beliefs and practices. Here, we will explore the different factors that go into determining whether Baskin Robbins ice cream is halal or not.
We will also take a look at the ingredients used in their products and other important considerations for those who follow a halal dietary lifestyle. By the end of this article, you should have a better understanding of whether Baskin Robbins is an option for your family's halal diet. So let's dive in and learn more!
About Baskin Robbins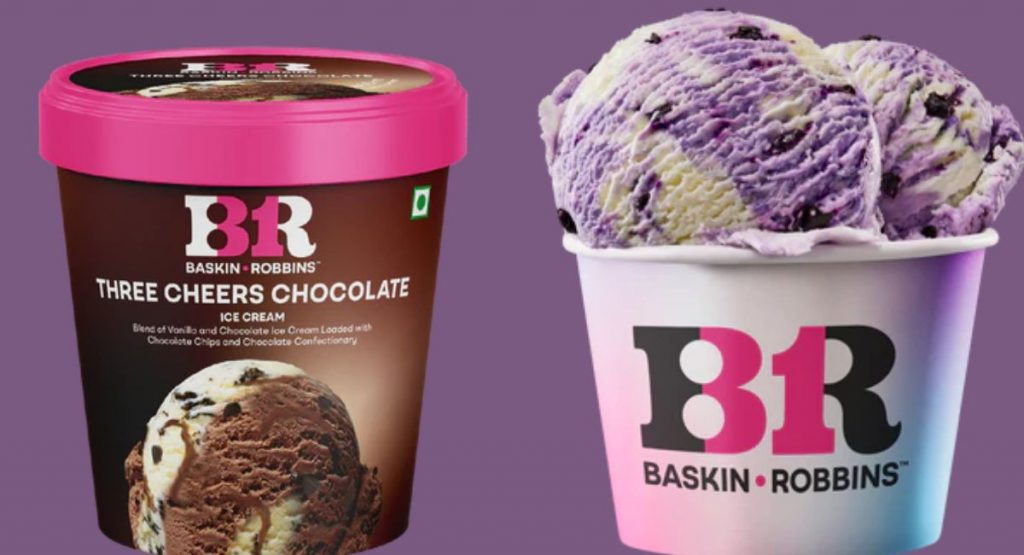 Baskin Robbins is a beloved global chain of ice cream parlours founded in 1945 by two brothers-in-law, Burt Baskin and Irv Robbins. The company has over 7,500 locations worldwide and offers more than 1,300 flavours of ice cream to its customers. The classic Chocolate Chip Mint is the most popular flavour, but the company has released hundreds of other flavours since its inception. In addition to traditional ice cream, Baskin Robbins also offers frozen yoghurts and sherbets.
Baskin Robbins is well-known for its 31 Flavors slogan and parlour decorations, including a classic pink and brown colour scheme. The company also offers seasonal flavours that reflect the time of year, like Pumpkin Pie and Egg Nog for the holidays. Baskin Robbins is active in their local communities, often hosting free scoop nights or donating to charities.
In addition to their parlours, Baskin Robbins has a wide range of ice cream products available in grocery stores, convenience stores, and other retail outlets. The company also offers custom cakes for special occasions like birthdays and weddings. In recent years, Baskin Robbins has added milkshakes and ice cream sundaes to their menu, which have proven to be popular additions for customers of all ages.
Baskin Robbins is dedicated to providing its customers with the best ice cream experience possible. The company is committed to using high-quality ingredients and creating innovative new flavours that keep customers returning for more.
Baskin Robbins Menu
The Baskin Robbins menu offers a wide variety of treats for all occasions. From ice cream to sherbets, cakes and shakes, there is something for everyone!
Ice Cream:
Classic Ice Creams include flavours like Chocolate Chip Cookie Dough, Jamoca Almond Fudge, Pralines 'n Cream, and Rocky Road.
Frozen Yogurt flavours include Very Berry Strawberry, Mango Tango, and Orange & Cream.
Sorbets include Raspberry Rainbow Sherbet, Mango Daiquiri Sorbet, and Pineapple Coconut Sunset.
Cakes:
Layer Cakes are available in a variety of flavours and sizes. Choose from Caramel Turtle Truffle, Chocolate Mousse Royale, Red Velvet Cake with Cream Cheese Icing, and more!
Ice Cream Cakes range from traditional to unique flavour combinations such as Strawberry Cheesecake, Oreo Cookies n' Cream Madness, Monster Cookie Dough Explosion, and Snickers SuperGiant.
Shakes and Smoothies:
Baskin Robbins shakes come in delicious flavours such as Caramel Pralines & Cream, Peanut Butter 'n Chocolate, Cookies 'n Cream, and Double Strawberry.
Refreshing smoothies are also available like Mango Tango Blast, Strawberry Banana Rush, and Raspberry Lemonade Zing.
Other Treats:
Cool off with a cup of Baskin Robbins' famous ice cream floats. Choose from flavours like Root Beer Float, Orange Creamsicle, Chocolate Cherry Dream, and more!
If you're looking for something cold but not quite ice cream, try out their frozen slushies like Blue Raspberry, Watermelon Madness, and Tropical Paradise. You can also indulge in a delicious waffle cone or bowl for your favourite scoop of ice cream!
No matter what you're craving, Baskin Robbins has something to satisfy everyone's sweet tooth. Visit one of their many locations or order online for an easy and delicious treat! Enjoy!
Which Baskin Robbins Flavours Are Halal?
Baskin Robbins offers a variety of delicious and unique flavours, from classic favourites like Chocolate Chip Cookie Dough to more creative options such as Peanut Butter 'n Fudge. If you are looking for Halal-friendly ice cream flavours, there are several available at Baskin Robbins.
Here's a list of the Halal-certified ice cream flavours you can enjoy:
Chocolate Chip Cookie Dough
Vanilla
Very Berry Strawberry
Jamoca Almond Fudge
Mocha Chip
Mint Chocolate Chip
Cookie dough Swirls®
Customers who follow a Halal diet can also choose from the Baskin Robbins Non-Dairy range.
This includes two delicious flavours:
Chocolate Almond Chip
Vanilla Almond Chip
All of these ice cream treats are also free from any pork products, making them a great option for those who wish to avoid any animal by-products in their desserts. So, next time you visit a Baskin Robbins, you can rest assured that there are plenty of Halal-friendly options to choose from. Whether it's classic flavours like Vanilla or Chocolate Chip Cookie Dough or unique Non-Dairy treats, you'll be sure to find something that satisfies your sweet tooth!
For those looking for even more unique flavours, Baskin Robbins has also created a special Halal-certified selection of ice cream toppings and syrups. These include:
Chocolate Syrup
Strawberry Syrup
Caramel Syrup
Sprinkles
With these delicious toppings, you can create your own unique and Halal-friendly ice cream desserts. Whether it's a classic sundae with Chocolate Syrup and Sprinkles or a more creative creation topped with Caramel Syrup and fresh fruits, you can enjoy all the deliciousness of Baskin Robbins without worrying about any non-Halal ingredients.
Does Baskin Robbins Have Alcohol?
No, Baskin Robbins does not serve or sell any alcoholic beverages. Their menu is strictly limited to ice creams and related products, such as milkshakes, smoothies and frappes. Despite this, many locations have partnered with local restaurants to offer beer and wine pairings with specific ice cream flavours. It is also possible to order custom ice cream cakes decorated with alcohol-based cake toppers.
However, the Baskin Robbins chain does not serve or sell any alcoholic beverages at its locations. Additionally, it is not possible to purchase alcoholic products online from Baskin Robbins. It is important for customers to keep in mind that Baskin Robbins does not have any alcohol in its ice cream, as all of its flavours use non-alcoholic ingredients. As such, children can enjoy Baskin Robbins products without worrying about the effects of consuming alcohol.
Furthermore, customers should be aware that Baskin Robbins is stringent about enforcing the legal age restrictions for drinking and purchasing alcoholic beverages within the US and other countries. Even when ordering custom ice cream cakes with alcohol-based cake toppers, customers must be of legal drinking age or have a legal guardian present for purchase.
Overall, Baskin Robbins does not serve or sell any alcoholic beverages at its locations. As such, consumers can feel confident in the knowledge that ice cream products are safe for consumption by both adults and children alike. However, customers should still be aware of age restrictions when ordering any products containing alcohol, as these restrictions must be enforced in order to comply with local laws. By being mindful of this policy, customers can enjoy their Baskin Robbins experience without worry or concern.
What Does Baskin Robbins Ice Cream Contain?
Baskin Robbins ice cream is made from ingredients that bring out the signature taste of its flavours. The basic components found in each tub of Baskin Robbins ice cream include milk, cream, sugar, egg yolks, stabilizers and artificial flavourings. Milk and cream are used to make the ice cream silky smooth while sugar is used to sweeten it.
Egg yolks help give the ice cream a richer and more custard-like texture. Stabilizers such as guar gum act to keep the ice crystals small while artificial flavourings provide the signature tastes of each Baskin Robbins flavour. In addition, some flavours may contain other mix-ins such as nuts, chocolate chips, cookies and/or fruits.
In addition to the ingredients listed above, Baskin Robbins ice cream contains added colours to give it a vibrant hue. For example, French Vanilla has both yellow and red food colouring added to it. Other flavours such as Chocolate Chip Cookie Dough Ice Cream have blue colour added to give it a more distinct look. Depending on the flavour, Baskin Robbins ice cream may also contain natural flavours from extracts such as vanilla or almond extract. This helps to bring out the signature taste profiles of each flavour.
Baskin Robbins is committed to providing its customers with quality ice cream that's made from premium ingredients. Each flavour is crafted to bring out the best possible taste in every scoop. By using a combination of ingredients and mix-ins, Baskin Robbins creates flavours that are sure to please everyone's palate. From classics such as Vanilla Bean to interesting concoctions like Jamoca Almond Fudge, there's something for everyone!
Is Baskin Robbins Halal?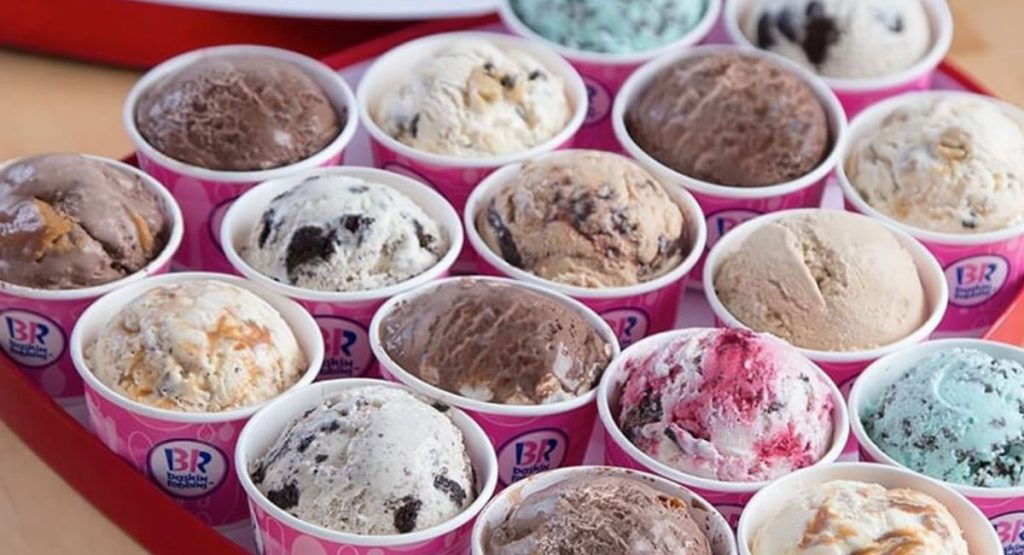 No, Baskin Robbins is not Halal certified and therefore does not meet the dietary requirements of those following a Halal diet. The company uses animal-based products, including dairy, eggs and gelatin in their ice cream flavours which may contain traces of pork. Additionally, some flavourings used are alcohol-based and do not conform to Halal standards.
It is important to note that while Baskin Robbins may not be fully Halal, they are committed to providing the highest quality ingredients without animal testing or artificial preservatives. As such, many vegetarian customers enjoy their products as an alternative to traditional ice cream options.
It is recommended that those looking for a truly Halal ice cream product should look elsewhere. There are a number of brands that offer certified Halal products and many of them also provide vegan options for those who prefer dairy-free alternatives. Additionally, many Middle-Eastern markets carry a variety of Halal and vegetarian ice cream products to suit the dietary requirements of their customers.
Ultimately, Baskin Robbins may not be a Halal-certified ice cream option, however, they provide an alternative to traditional ice cream products that many customers enjoy. It is important for those following a Halal diet to note that Baskin Robbins' products may contain traces of pork or alcohol and should look elsewhere if seeking out certified Halal options.
You Might Also Like:

Is Walls Soft Scoop Halal – Curious about the halal status of Walls Soft Scoop? We've got you covered. Delve into the world of ice cream choices and learn whether this creamy delight aligns with your dietary preferences. Discover the ingredients, production processes, and certifications that determine whether Walls Soft Scoop is halal or not.

Is Gelato Haram – Gelato, with its rich and silky texture, is a beloved frozen treat. But is it halal? Uncover the secrets of this Italian dessert as we delve into the ingredients, methods, and potential halal concerns surrounding gelato. Whether you're a devoted gelato fan or just discovering its delights, our exploration of its halal status will help you enjoy it with confidence and peace of mind.

Is Haagen Dazs Haram – Haagen-Dazs, known for its luxurious ice cream offerings, beckons to ice cream aficionados. But is it halal? Let's dive into the world of this premium ice cream brand and understand its ingredients and production processes. We explore whether Haagen-Dazs meets the halal standards you seek in your dietary choices.

Is Magnum Haram – Savoring a Magnum ice cream bar is a delightful experience, but is it halal? Join us in exploring the luxurious world of Magnum ice cream and uncover the details that determine its compatibility with halal dietary preferences. From the decadent coatings to the luscious fillings, we break down the elements that make up Magnum's exquisite flavors.
Conclusion
In conclusion, Baskin-Robbins is not certified halal by any Islamic organizations. All of their products may contain animal-based ingredients and gelatine which are not approved in Islam. However, there are some individual franchises that offer vegan-friendly ice creams, so it's important to research the local store to check their ingredients. Ultimately, it is still the responsibility of Muslims and others who follow a halal lifestyle to make sure that any ice cream they consume has been prepared according to their own standards of acceptability.
Frequently Asked Questions (FAQs)
1. What Is Baskin Robbins Famous For?
Baskin Robbins is best known for its wide variety of ice cream flavours, which continues to grow. Since 1945, Baskin-Robbins has offered over 1,000 different flavours and ingredient combinations. From classics like Pralines 'n Cream or Jamoca Almond Fudge to more modern offerings such as Cotton Candy or Green Tea, Baskin-Robbins has something to satisfy every sweet tooth.
2. Has Baskin Robbins Always Had 31 Flavours?
No, Baskin-Robbins has not always boasted the iconic 31 flavours. The company first opened its doors in 1945, with a modest offering of just three flavours – cherry garcia, chocolate and coffee. As the business grew in popularity over the years, it eventually expanded to include more than 400 different flavours. It wasn't until the 1970s that Baskin-Robbins officially adopted its trademarked 31 flavours tagline.
3. Is Baskin-Robbins In India Vegetarian?
Yes, Baskin-Robbins in India is vegetarian. The company prides itself on offering a wide range of dishes and desserts that are free from all animal products, including milk, eggs, and honey. All of their food items are made from plant-based ingredients like nuts, fruits, vegetables, spices, condiments and grains. Baskin-Robbins also offers plenty of vegan and eggless options, so no matter what your dietary preferences are, there's something for everyone to enjoy. Additionally, their commitment to quality ingredients ensures that all of their products are fresh and flavorful. So next time you're in India, be sure to check out Baskin-Robbins for a delicious, vegetarian treat!