When it comes to indulging in sweet treats, chocolate often ranks high on the list of favorites. Nestled among the beloved chocolate bars is Aero, known for its unique bubbly texture that seems to melt in your mouth. However, for those who follow a halal dietary regimen, a question often lingers in their minds: Is Aero halal?
In this article, we'll delve into the world of Aero chocolate bars to uncover whether they align with halal dietary guidelines or not. We'll explore the ingredients and certification standards that play a pivotal role in determining the halal status of this popular confection.
So, if you're a chocolate enthusiast who's also concerned about adhering to halal principles, read on to satisfy your curiosity and make informed choices when it comes to Aero chocolates.
Is Aero Halal
No, Aero is not a halal-certified brand. Their website clearly states the same.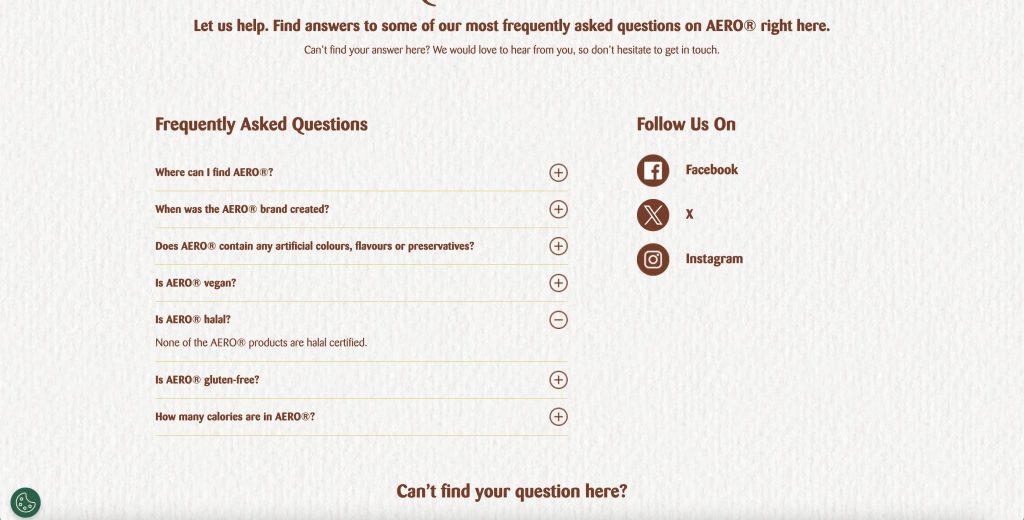 So, anyone on a strict halal-diet should NOT consume Aero products.
We also analyzed all of their products and found that some of them contain some mushbooh ingredients the sources of which are not specified.
The ingredients in question are Whey Powder, Lecithin and Natural Flavouring.
Whey is derived from milk, but its halal status can depend on the rennet used in the cheese-making process from which whey is derived. If it's from an animal not slaughtered according to Islamic law, then it could be considered haram.
Lecithins can be derived from both plant and animal sources. If from plants like soy or sunflower, it's halal. If from animal sources, it needs to be from a halal-certified animal.
Natural Flavouring can be a tricky one. Natural flavouring can be derived from various sources, both plant and animal. It's important to verify the source of the flavouring to ensure it's not derived from a haram source.
The following products fall in the Mushbooh category:
AERO Instant Hot Chocolate Powder
AERO Peppermint Chocolate Bar
AERO Milk Chocolate Bar
AERO Bubbly Caramel Chocolate Bar
AERO Golden Honeycomb Sharing Bar
AERO Orange Chocolate Sharing Bar
AERO Dark & Milk Chocolate Sharing Bar
AERO Dark & Milk Peppermint Chocolate Sharing Bar
AERO Melts Golden Honeycomb Pouch
AERO Melts Milk Pouch
AERO Melts Milk Orange Pouch
AERO Melts Caramel Pouch
On the other hand, some products contain Gelatine which can be derived from various animal sources. If it's from an animal that was not slaughtered according to Islamic law or from a forbidden animal, then it's haram. If it's from fish or halal-slaughtered animals, it's halal.
There's also vegetarian gelatine which would be halal. However, Aero doesn't specify the source of gelatine anywhere on their website. Therefore, the following products will also be considered mushbooh.
AERO Peppermint Chocolate Mousse
AERO Chocolate Caramel Bubbly Mousse
AERO Dark & Milk Bubbly Mousse
AERO Milk Chocolate Mousse
AERO Creations Milk Chocolate Mousse
Note: We have emailed the Nestle (the parent company) regarding the sources of the above mentioned ingredients and will update this article as soon as we hear back from them.
About Aero
Aero, one of the UK and Ireland's most beloved chocolate brands, has a rich history that spans over eight decades.
Its story began in 1935 when Rowntree's introduced "new chocolate" to the world. This innovative creation featured a light and airy texture created by incorporating air bubbles into the milk chocolate. The result was a truly delightful and indulgent treat that quickly gained popularity among chocolate enthusiasts.
The brand faced a temporary setback during World War II when milk shortages forced the production of Aero to be paused. However, once the war came to an end in 1950, Aero made a triumphant return, delighting fans once again with its unique taste and texture.
In 1955, Aero made its debut on television, accompanied by the tagline "The milk chocolate that's different." This advertisement highlighted Aero's distinctive qualities and further solidified its place in the hearts of chocolate lovers across the UK and Ireland.
Aero continued to innovate and expand its product range. In 1959, Aero Peppermint was launched, initially available only in the Midlands before becoming available nationwide later that year. The refreshing combination of the smooth milk chocolate and peppermint flavor was an instant hit.
One year later, in 1960, Aero expanded its range even further with the introduction of Aero Orange. This addition brought a zesty twist to Aero's selection of flavors, creating even more opportunities for chocolate lovers to indulge in their favorite bubbly treat.
In 2005, Aero delighted fans once again with the introduction of Aero Peppermint Bubbles, a new format that allowed for a more indulgent and delightful chocolate experience. These bite-sized bursts of peppermint-flavored bubbles were an instant success and further cemented Aero's reputation as a brand that consistently delivers on taste and enjoyment.
The year 2019 marked another exciting chapter for Aero with the launch of Aero Bliss. These indulgent gift boxes feature individually wrapped velvety whipped chocolate bubbles with luscious fillings, offering a moment of blissful indulgence for chocolate lovers.
Today, Aero remains the original bubbly chocolate bar that continues to delight fans of all ages. With over 4 million bubbly bubbles made every day in the UK, Aero's unique and distinctive texture creates a memorable chocolate experience. Year after year, over 8 million people indulge in Aero's delicious creations, solidifying its place as a much-loved brand in the hearts of chocolate enthusiasts.
Aero Products
With a range of products to choose from, Aero has something for everyone. Let's take a closer look at the variety of products available to satisfy your chocolate cravings.
Sharing Bags – Share the joy of smooth, bubbly milk chocolate with Aero Melts. These delightful sharing bags contain bite-sized buttons of Aero's famous aerated chocolate. Perfect for enjoying while watching a film with your family or catching up with friends, these bubbly buttons will melt on your tongue, releasing every single bubble of deliciousness. With flavors like caramel joining the range, there's an Aero for everyone.
Sharing Blocks – For a generous treat, indulge in Aero Sharing Blocks. These blocks of smooth and bubbly chocolate are perfect for sharing or enjoying on your own. Break off a piece and savor the unique aerated texture that makes Aero stand out. The range includes classic milk chocolate and exciting variations like Aero Orange, offering a zesty twist to the original.
Bars – Aero bars are the perfect on-the-go treat. Individually wrapped for convenience, these bars are great for enjoying a moment of indulgence wherever you are. Each bite is filled with the distinctive bubbly texture that has made Aero a favorite for chocolate lovers. From the original milk chocolate to the refreshing peppermint flavor, there's an Aero bar to satisfy your cravings.
Chilled Desserts – Aero goes beyond traditional chocolate bars and offers chilled desserts for those who want a different kind of indulgence. These delectable treats feature the signature Aero bubbles in creamy and velvety desserts, combining the joy of bubbly chocolate with a smooth and luscious texture. Treat yourself to an Aero Chilled Dessert for an extra special sweet experience.
Drinks – If you can't get enough of the unique Aero bubbles, why not try them in a drink? Aero offers a range of hot chocolate drinks that will delight your taste buds. Simply add hot milk and stir for a satisfyingly smooth and bubbly hot chocolate experience. Elevate your cozy evenings with Aero Hot Chocolate Drinks.
No matter which Aero product you choose, you can be sure that you're enjoying the original bubbly chocolate bar that has been loved by millions since its launch in 1935. Aero continues to innovate and expand its range, ensuring that there's something for every chocolate lover.