Singapore is a melting pot of diverse cultures and cuisines, has long been celebrated for its vibrant food scene. Among the plethora of culinary delights, Japanese cuisine stands out as a favorite among many. With its delicate flavors, fresh ingredients, and artistic presentation, Japanese food has won the hearts of Singaporeans and visitors alike.
However, for the Muslim community in Singapore, finding authentic and Halal-certified Japanese restaurants has often been a challenge. The demand for Halal options has steadily increased over the years, leading to a growing number of establishments aiming to bridge the gap between cultural appreciation and religious dietary requirements.
In this article, we embark on a tantalizing journey through the enchanting world of Halal Japanese restaurants in Singapore. From savoring delectable sushi rolls to indulging in hearty ramen bowls, we'll explore the diverse range of Halal-certified Japanese eateries that cater to both Muslim diners and food enthusiasts alike.
Join us as we unveil the rich tapestry of flavors and cultural fusion that these restaurants bring to the Lion City, offering a unique culinary experience that blends traditional Japanese techniques with Halal practices.
Top 10 Halal Japanese Restaurants in Singapore
KOMA Singapore
Daya Izakaya Halal Japanese
The Ramen Stall
Oiishii Corner
Hei Sushi
Tokyo Shokudo
WakuWaku Yakiniku
Monster Planet
Gyunion
Junshin Express
Fu-Men Japanese Udon & Donburi Restaurant
Flipper's
The Straits Teppanyaki
Omoomo
Maki-San
Oishii Corner
Don N Bap
Home of Sushi
Ryo Yakiniku
Donburi No Tatsujin
Rōnin
Savoureux
Yakiniku Shokudo
Sukiya
Kyoto Shokudo
Saute-San
Ichikokudo Ramen
Edo Shokudo
KOMA Singapore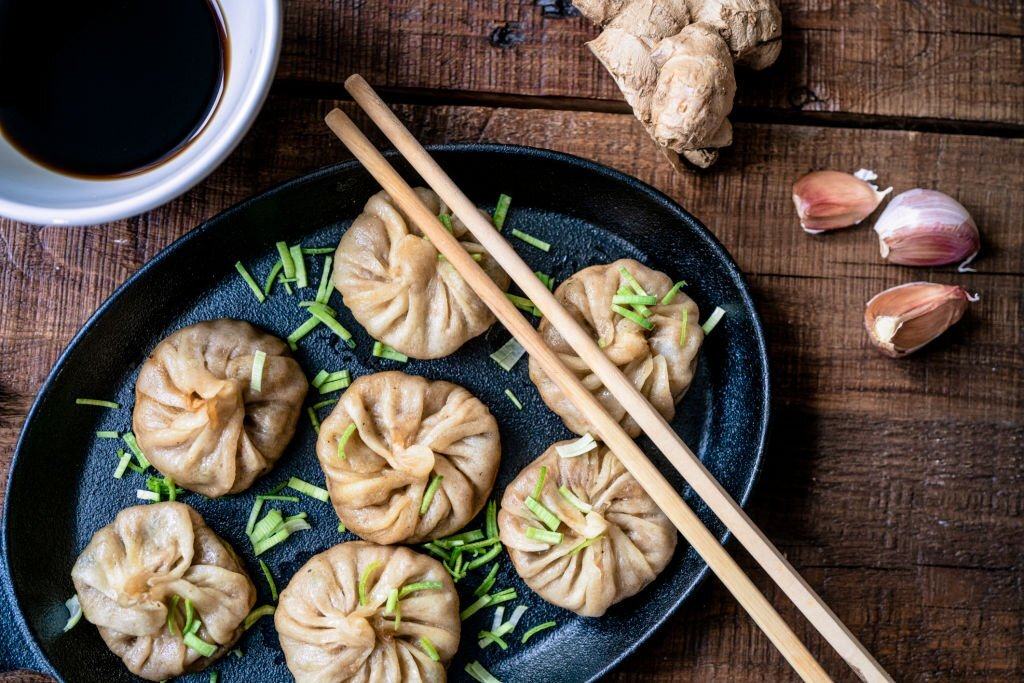 Rating: 4/5
Opening Hours: Monday to Sunday (11:00 am to 3:00 pm)
Address: 2 Bayfront Avenue, # B1 – 67 Singapore 018972
Contact: +65 6688 8690
Menu
Recommended dishes: Fish Sushi, Grilled Shrimp, Chicken Hot & Sour Soup, Rainbow Sushi, Bow Buns, Udon Noodles, Umami and Beef BBQ.
Omotenashi at Its Finest
KOMA Singapore, nestled in the heart of the iconic Marina Bay Sands, is an elegant and sophisticated restaurant that embodies the spirit of Japanese hospitality, known as omotenashi.
The restaurant offers a delightful blend of traditional and contemporary Japanese cuisine, all prepared with meticulous attention to halal guidelines. Since its inception, KOMA has garnered praise for its commitment to quality, innovation, and inclusivity.
Step into KOMA Singapore, and you'll be transported into a world of culinary wonders. From the moment you enter, you'll be captivated by the restaurant's mesmerizing interior, which showcases a stunning 20-meter-long ceiling installation of a mythical Shinto shrine gate. The ambiance is both inviting and luxurious, providing the perfect setting for a memorable dining experience.
Feast for the Senses
KOMA's menu is a delightful showcase of Japanese cuisine's finest offerings. The restaurant prides itself on sourcing the freshest ingredients to craft dishes that tantalize the taste buds. From sushi and sashimi to teppanyaki and robata-grilled items, every dish is carefully curated to ensure an authentic and halal-certified culinary journey.
KOMA boasts an extensive selection of sushi and sashimi, featuring an array of premium fish and seafood. The skilled sushi chefs create artful pieces that not only please the eye but also deliver an explosion of flavors with every bite.
The teppanyaki counter at KOMA is a show in itself. Watch as skilled chefs theatrically grill succulent halal-certified meats, seafood, and vegetables right before your eyes, ensuring a delectable and interactive dining experience.
KOMA's robata grill offers an authentic taste of Japan, where skewered meats, vegetables, and seafood are grilled to perfection over hot charcoal. The result is a smoky and savory flavor that will leave you craving more.
These handcrafted gyoza dumplings are filled with juicy and flavorful Wagyu beef, perfectly seared to achieve a delightful crispy texture. Marinated in a special saikyo miso paste, the tender and buttery black cod is grilled to perfection, creating a sweet and savory flavor profile that is simply irresistible.
Beacon of Quality and Inclusivity
KOMA Singapore has successfully filled a void in the halal dining scene, providing an authentic and high-quality Japanese culinary experience for Muslim diners. With its commitment to halal-certified ingredients and dedication to delivering top-notch service, KOMA has quickly become a go-to destination for those seeking the finest in Japanese cuisine.
Daya Izakaya Halal Japanese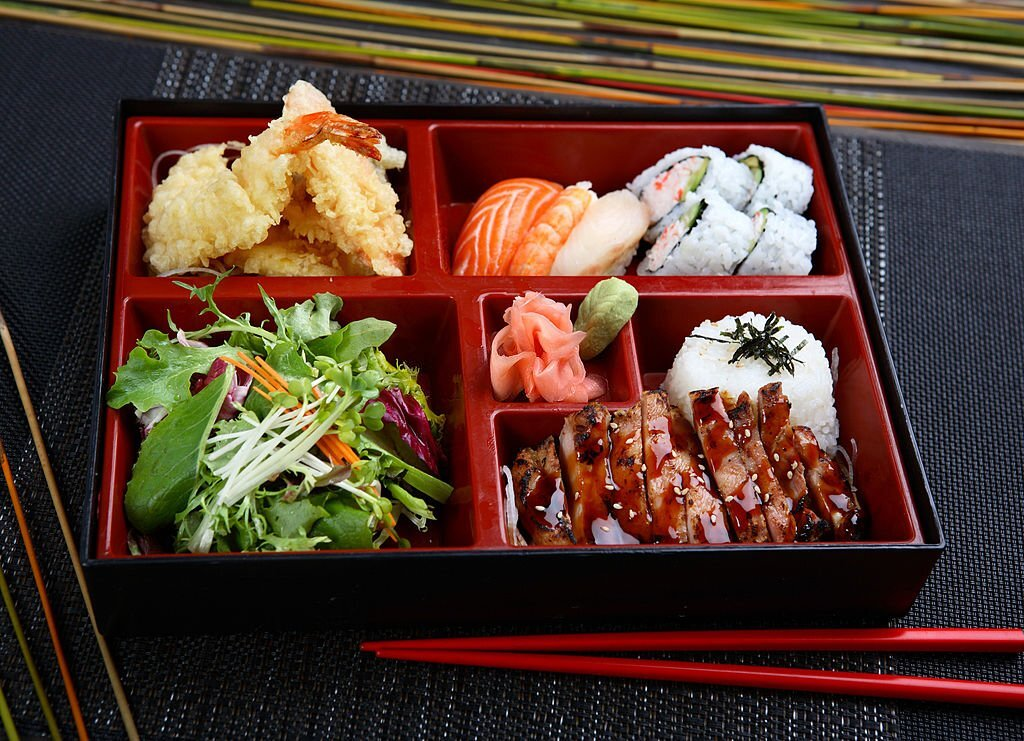 Rating: 5/5
Opening Hours: Monday to Sunday (11:30 am to 10:30 pm)
Address: 254 Jalan Kayu Singapore 799481
Contact: +65 8321 5242
Menu
Recommended dishes: Salmon Sashimi, Chicken Sausage, Angus Beef, Tofu Salad, Crispy Chicken Karaage, Chicken Gyoza and Egg Ramen.
Authentic Taste of Japan
Situated in Singapore, Daya Izakaya offers a delightful experience for both Muslim and non-Muslim diners seeking an authentic taste of Japan. In this article, we explore what makes Daya Izakaya a top choice for Halal Japanese dining in the city.
Daya Izakaya's menu boasts an extensive selection of Japanese delicacies, offering something for every palate. Whether you're a fan of sushi, sashimi, tempura, or ramen, the restaurant's diverse menu has you covered. Standout dishes include the tantalizing Teriyaki Chicken, the flavorful Beef Yakiniku, and the mouthwatering Ebi Tempura. Vegetarian and vegan options are also available, showcasing the restaurant's commitment to inclusivity.
Quality Ingredients, Exceptional Taste
To ensure an authentic and delightful dining experience, Daya Izakaya prioritizes the use of fresh, high-quality ingredients. From the locally sourced vegetables to the premium-grade seafood, every dish is crafted with precision and care. The chefs' attention to detail and dedication to sourcing the finest ingredients contribute to the restaurant's exceptional taste and presentation.
Innovation Meets Tradition
Daya Izakaya goes beyond the traditional Japanese fare, incorporating innovative twists that appeal to modern tastes. The fusion of traditional and contemporary flavors can be seen in their signature dishes, such as the Salmon Aburi Maki and the Volcano Maki. These dishes exemplify the chef's creativity and ability to cater to evolving culinary trends.
Daya Izakaya Halal Japanese has undoubtedly carved its place as one of the top Halal Japanese restaurants in Singapore. From its commitment to authenticity and Halal standards to its diverse menu and warm hospitality, the restaurant delights diners with a truly unique experience. Whether you're a local resident or a visitor to Singapore, Daya Izakaya offers an opportunity to indulge in the rich and flavorful world of Japanese cuisine while staying true to your dietary preferences.
The Ramen Stall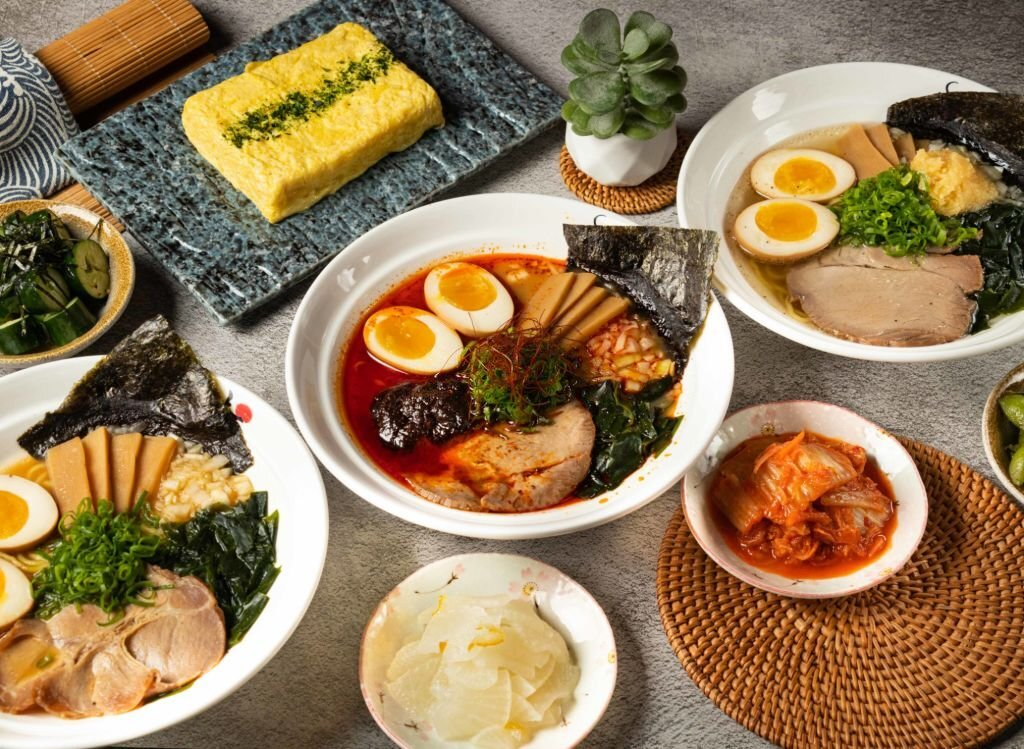 Rating: 5/5
Opening Hours: Monday to Sunday (11:00 am to 11:00 pm)
Address: 787 North Bridge Road Singapore 19
Contact: +65 6655 0800
Menu
Recommended dishes: Volcano Ramen, Dry Ramen, Chicken Floss Cutlet Maki, Matcha Ice Cream, Kimchi with Minced Chicken Ramen, Salmon Sashimi and Deep-Fried Salmon Skin.
Japanese Oasis in Bugis
Located in the vibrant neighborhood of Bugis, The Ramen Stall welcomes diners with an authentic Japanese ambiance. As you step inside, you are transported to the streets of Tokyo, with warm wooden accents, traditional lanterns, and a cozy, inviting atmosphere. The restaurant's interior reflects the cultural richness of Japan, providing an ideal setting to savor the halal culinary delights that await.
A Flaming Adventure
The star of the show at The Ramen Stall is, unsurprisingly, its ramen. Bursting with umami goodness, their ramen bowls come in a variety of broth bases, catering to different taste preferences. Whether you prefer the rich and creamy tonkotsu, the savory miso, the delicate shoyu, or the spicy tantanmen, there's a bowl of ramen to satisfy every craving.
But the experience doesn't end with ramen. The menu boasts an extensive array of delectable dishes, each crafted with precision and care. From perfectly grilled yakitori skewers to mouthwatering tempura, and from flavorful donburi rice bowls to refreshing Japanese salads, The Ramen Stall offers a well-rounded menu that captures the essence of Japanese gastronomy.
Among the restaurant's signature dishes is the "Volcano Ramen," an explosive creation that tantalizes taste buds with its fiery spice and bold flavors. Brave souls seeking a culinary adventure can take on the challenge of finishing this flaming bowl of ramen, which comes with a 'danger' warning!
No meal is complete without a sweet ending, and The Ramen Stall doesn't disappoint. Indulge in an array of delectable desserts, including the ever-popular "Matcha Ice Cream" and the delightful "Mochi" – soft, chewy rice cakes filled with sweet, flavorful fillings.
Halal Haven
The Ramen Stall has successfully filled a void in Singapore's culinary landscape by offering a halal haven for Japanese cuisine enthusiasts. Its commitment to halal integrity, combined with a menu that boasts a wide range of authentic Japanese delights, has made it a popular destination for locals and tourists alike.
Oiishii Corner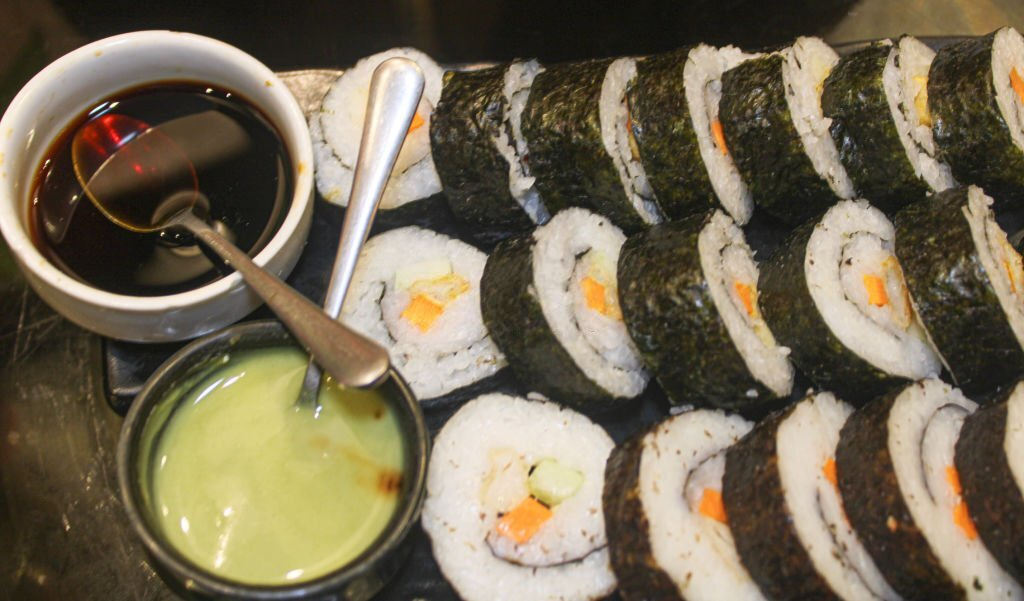 Rating: 4.5/5
Opening Hours: Monday to Sunday (11:00 am to 10:00 pm)
Address: 22 Lor 7 Toa Payoh, #01-61, Singapore 311022 Singapore 311022
Contact: +65 9797 1004
Recommended dishes: Chirashi Don, Sushi Platter, Teriyaki Chicken, Spicy Maki Roll, Chicken Ramen and Bento Sets.
Japanese Haven
Oiishii Corner is a haven for Halal Japanese cuisine, situated in the heart of Singapore, this restaurant has garnered a loyal following by blending the flavors of Japan with the dietary requirements of Muslim diners.
Oiishii Corner takes pride in providing an authentic Japanese dining experience while adhering to Halal principles. With an emphasis on fresh ingredients and traditional cooking techniques, the restaurant offers a menu that captivates both Japanese food enthusiasts and those seeking Halal options.
Menu for All Tastes
The menu at Oiishii Corner boasts a wide selection of Japanese delicacies that cater to various preferences. From classic sushi rolls and sashimi platters to hearty ramen bowls and bento sets, every dish is crafted with precision and care. Diners can indulge in the rich umami flavors of teriyaki chicken, delight in the freshness of seafood, or savor the earthy taste of vegetarian options.
The restaurant takes pride in its signature dishes that have earned them a loyal clientele. The "Halal Chirashi Don" stands out as a colorful masterpiece, combining an assortment of fresh sashimi atop a bed of fluffy sushi rice. Another must-try is the "Spicy Maki Roll," where the fusion of flavors creates a delightful burst of taste in every bite.
Preserving Culinary Heritage
Oiishii Corner stands tall as a beacon of harmony, where Halal Japanese cuisine merges with Singapore's cultural mosaic. Its dedication to preserving Japanese culinary heritage while respecting Halal principles is commendable. Whether you are a Japanese food enthusiast or someone looking for Halal dining options, Oiishii Corner is a must-visit destination.
Hei Sushi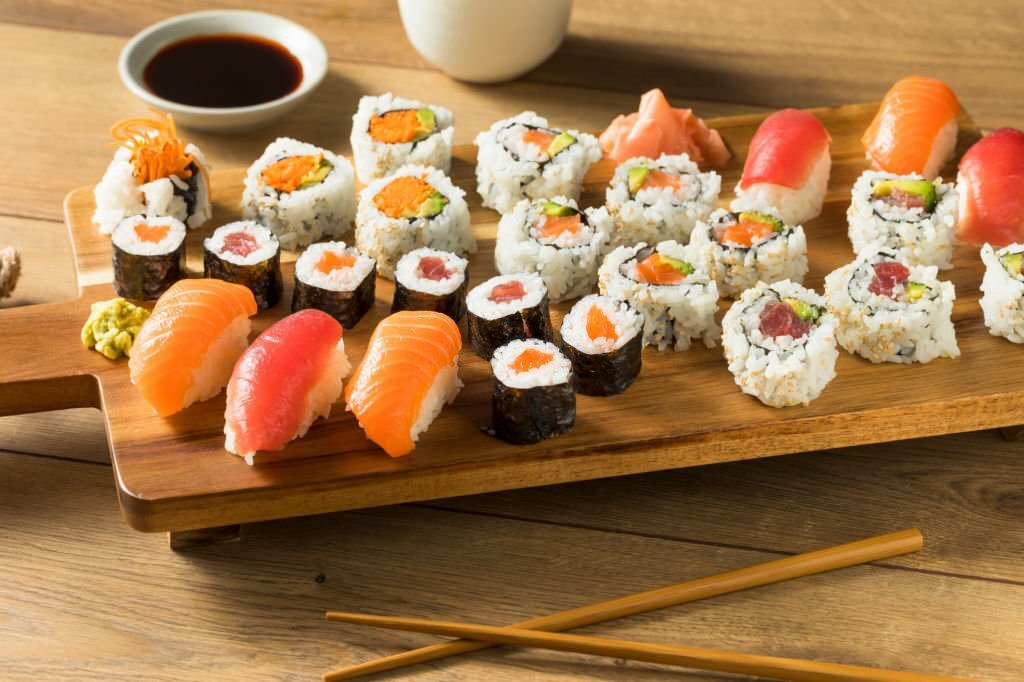 Rating: 3/5
Opening Hours: Monday to Sunday (11:00 am to 8:30 pm)
Address: 28 Tai Seng Street Singapore 53
Contact: +65 6382 1494
Menu
Recommended dishes: Ikura Chawanmushi, Salmon Teriyaki, Tako Sushi Nigiri, Purple Fried Yam Ball, Udon and Sashimi Platter.
Culinary Gem in Singapore
Hei Sushi has successfully combined the essence of traditional Japanese cuisine with Halal compliance, making it a prime choice for both Muslim and non-Muslim diners. From classic sushi rolls to hearty bento boxes, Hei Sushi ensures that every dish maintains the authenticity of Japanese flavors, while also adhering to Islamic dietary guidelines.
One of the highlights of Hei Sushi is its extensive and diverse menu. Catering to various palates and preferences, the restaurant offers a wide range of options, including sushi, sashimi, tempura, donburi, udon, and more. Whether you're a seafood enthusiast or a vegetarian, Hei Sushi has something special to satisfy your cravings.
Sushi, undoubtedly the star of Japanese cuisine, is skillfully prepared at Hei Sushi by experienced chefs who take pride in crafting these delicate delights. From classic favorites like California rolls and salmon nigiri to unique creations with a local twist, such as the Nasi Lemak sushi roll, the restaurant delights in pushing culinary boundaries.
Beloved Destination for All
For Japanese cuisine enthusiasts who follow Halal dietary practices, Hei Sushi stands out as a true gem in Singapore. Offering an authentic and diverse menu, warm hospitality, and a commitment to Halal standards, Hei Sushi has carved a niche for itself in the hearts of locals and tourists alike. So, if you're yearning to embark on a culinary journey through Japan while staying true to your Halal values, Hei Sushi is the place to be – where flavors and traditions come together in perfect harmony.
Tokyo Shokudo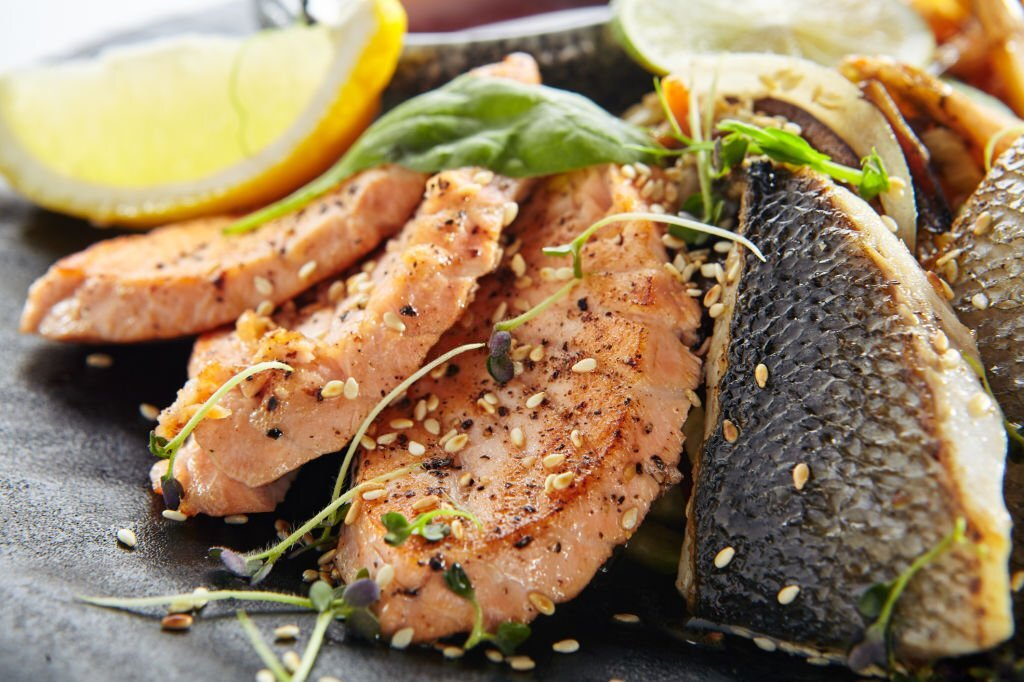 Rating: 4.5/5
Opening Hours: Monday to Sunday (11:30 am to 10:00 pm)
Address: 1 North Point Drive, South Wing, 01-175 Northpoint City Singapore
Contact: +65 6250 8312
Menu
Recommended dishes: Corn Chicken ChaShu Ramen, Soft Shell Crab Tsukemen, Ebi Tempura & Tar Tar Fried Chicken Dom, Chicken Gyoza With Okonomiyaki Sauce and Homemade Japanese Panna Cotta.
Gastronomic Journey Through Japan
In the heart of Singapore, Tokyo Shokudoi has earned a reputation for serving some of the finest halal Japanese cuisine in the country. Tokyo Shokudoi has emerged as a beacon of hope, offering a delightful and halal-friendly journey through the Land of the Rising Sun.
At Tokyo Shokudoi, diners embark on a gastronomic adventure that takes them through the essence of Japanese culture. The menu boasts a wide array of dishes, each meticulously prepared to reflect the traditional flavors of Japan. From the umami-packed sushi rolls to the hearty ramen bowls, every dish is crafted with precision and passion.
Delightful Creations
The sushi bar at Tokyo Shokudoi is a testament to the artistry of Japanese chefs. Using the freshest halal-certified ingredients, they masterfully prepare a variety of sushi rolls that appeal to all tastes. From classic favorites like California rolls and salmon nigiri to inventive creations like avocado tempura rolls, the sushi menu is a delightful fusion of tradition and innovation.
A steaming bowl of ramen is a true comfort food, and Tokyo Shokudoi delivers on this front as well. Their ramen offerings feature rich and flavorful broths, ranging from miso and shoyu to tantanmen, satisfying even the most discerning palates. The tender halal-certified meat and the perfectly cooked noodles come together harmoniously, creating an authentic ramen experience.
For those who enjoy the sizzling showmanship of teppanyaki, Tokyo Shokudoi has something special in store. The teppanyaki grill sizzles with marinated halal meats, succulent seafood, and a medley of fresh vegetables, skillfully seasoned and cooked to perfection. The enticing aroma that fills the air only enhances the dining experience, making it truly memorable.
Japanese Culinary Haven
Crunchy, golden-brown tempura is a favorite among Japanese cuisine enthusiasts, and Tokyo Shokudoi's halal tempura offerings don't disappoint. The light and crispy batter envelops an assortment of seafood and vegetables, creating a delightful contrast of textures with every bite.
Tokyo Shokudoi is a halal Japanese restaurant that has captured the hearts and taste buds of locals and tourists alike. With its commitment to authenticity, an extensive menu, and a warm ambiance, it offers a delightful haven for Muslim diners seeking an unforgettable Japanese culinary experience in Singapore.
WakuWaku Yakiniku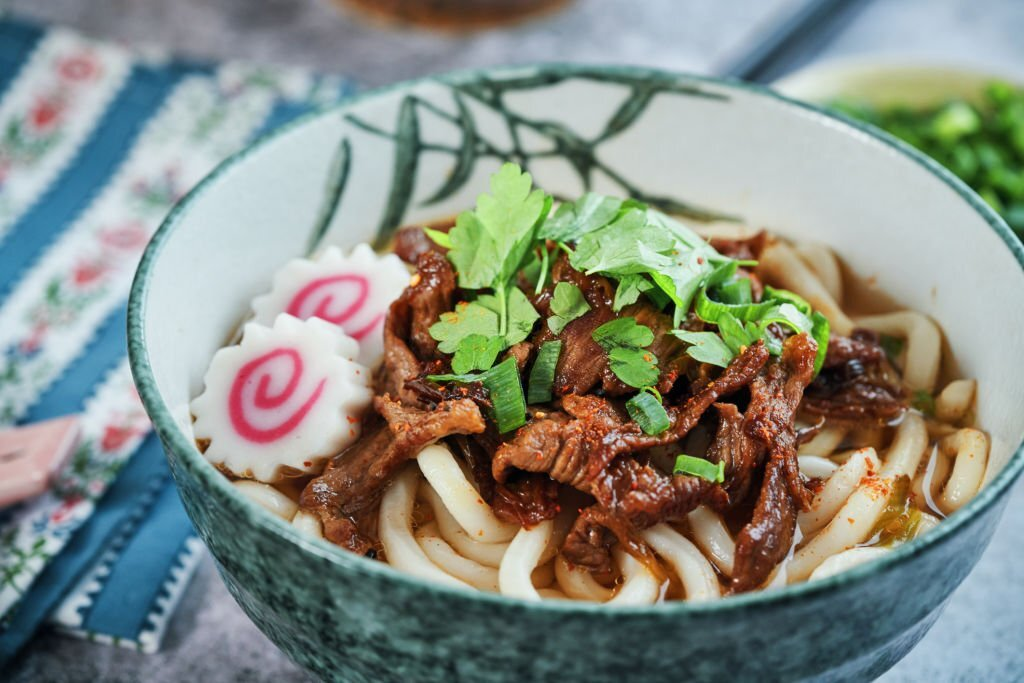 Rating: 4.8/5
Opening Hours: Monday to Sunday (11:00 am to 10:00 pm)
Address: 27 Bali Lane Singapore 189863
Contact: +65 6291 6891
Menu
Recommended dishes: Chef's Selection Wagyu Platter, Octopus Tentacles, Sukiyaki Settei, Wagyu Zabuton, Warishita sauce set and Cha-cha Soba.
Pioneering Halal Yakiniku Dining
WakuWaku Yakiniku distinguishes itself from other Japanese restaurants in Singapore by being the first Halal-certified yakiniku restaurant on the island. It offers a haven for Japanese food enthusiasts who adhere to Halal dietary guidelines, as well as those who simply appreciate the delightful marriage of Japanese cuisine and Islamic culinary practices.
At the heart of WakuWaku Yakiniku lies the yakiniku experience, which translates to "grilled meat" in Japanese. This dining style involves grilling bite-sized meat cuts, such as premium beef, succulent chicken, and tender lamb, on a smokeless grill right at the table. The restaurant provides an interactive and engaging experience, allowing diners to grill their meat to perfection, adjusting the cooking time to suit individual preferences.
Extensive Halal Menu
WakuWaku Yakiniku boasts an extensive Halal menu that tantalizes taste buds and satisfies cravings for authentic Japanese flavors. The menu showcases a variety of tantalizing appetizers like edamame, crispy gyoza, and fresh sashimi, providing a delightful prelude to the main attraction – the yakiniku selection.
For the main course, diners can choose from an array of premium Halal-certified meats, each carefully sourced to ensure the highest quality and taste. From marbled Wagyu beef to tender chicken and flavor-packed lamb, every meat option promises an unforgettable dining experience.
Moreover, WakuWaku Yakiniku caters to diverse dietary preferences, offering a range of vegetarian and seafood options that are equally mouthwatering and Halal-certified. For those who crave the umami goodness of sushi, the restaurant features a selection of sushi rolls and nigiri prepared with fresh, high-grade ingredients.
A carnivorous delight featuring an assortment of premium Wagyu beef cuts, each melt-in-your-mouth tender and richly marbled.
Grilled salmon fillet glazed with a luscious teriyaki sauce, showcasing the perfect balance of sweet and savory.
Stir-fried udon noodles with fresh vegetables and succulent chicken, seasoned with a delectable blend of Japanese spices.
Remarkable Dining Experience
WakuWaku Yakiniku stands as a beacon of Halal Japanese cuisine in the vibrant culinary landscape of Singapore. With its commitment to authenticity, quality, and inclusivity, the restaurant offers a remarkable dining experience for both Muslim and non-Muslim diners. Whether you seek to indulge in the art of yakiniku grilling or savor the exquisite flavors of Japan, WakuWaku Yakiniku is a must-visit destination that promises to leave your taste buds enchanted and your heart content.
Monster Planet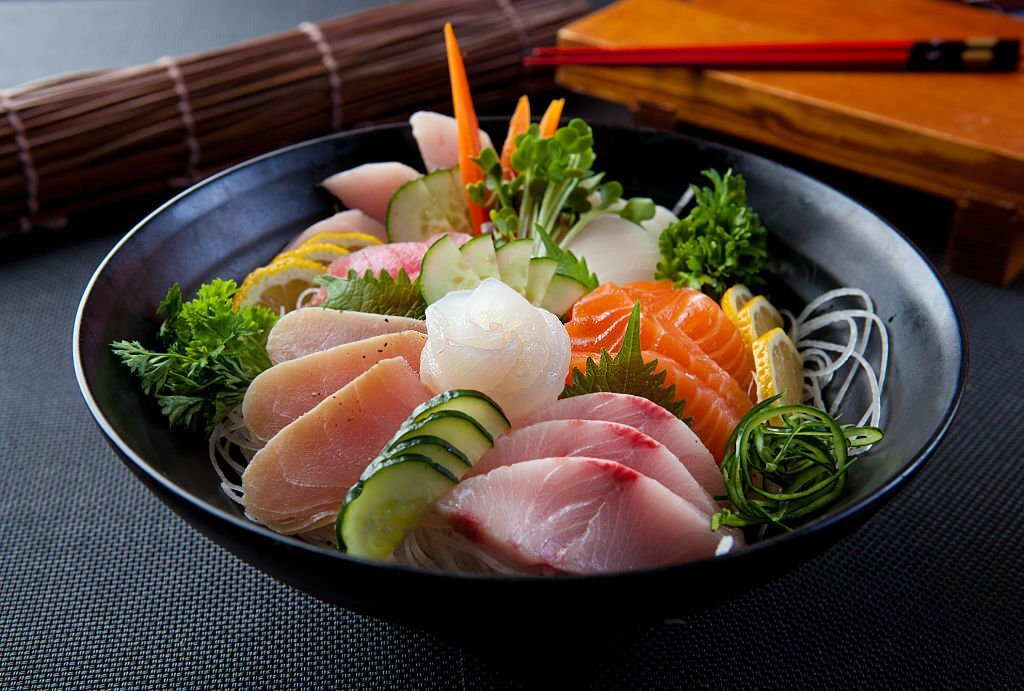 Rating: 5/5
Opening Hours: Monday to Sunday (11:00 am to 4:00 pm)
Address: 16 Collyer Quay #01-10 Collyer Quay Centre, Singapore Singapore
Contact: +65 6223 9133
Menu
Recommended dishes: Signature Chicken Katsu Curry, Fried Shrimp, Tori Karaage Curry, The Ebi Powerpuff and Lemongrass Chicken Curry.
Culinary Oasis for All
Monster Planet is not only a haven for Muslim diners but also an enticing destination for all food enthusiasts seeking authentic Japanese flavors. In this article, we delve into what makes Monster Planet a standout in Singapore's culinary landscape.
Finding halal Japanese food can be challenging, especially when it comes to preserving the traditional flavors while adhering to halal requirements. Monster Planet tackles this task with finesse, skillfully infusing halal ingredients into classic Japanese dishes without compromising on taste or quality.
At Monster Planet, diners are presented with an extensive menu that features all the beloved Japanese classics, from sushi and sashimi to tempura and teppanyaki. Each dish is crafted with precision, ensuring that every bite is a delightful journey into the heart of Japanese gastronomy.
Innovation and Inclusivity
What sets Monster Planet apart is its dedication to authenticity. The restaurant prides itself on importing premium ingredients directly from Japan, allowing patrons to savor the genuine taste of Japanese cuisine. The chefs at Monster Planet are trained rigorously, mastering the art of preparing dishes in the traditional Japanese style. With their expertise, diners can revel in the rich umami flavors that characterize authentic Japanese food.
Monster Planet stands as a testament to the power of culinary innovation and inclusivity. By blending halal requirements with authentic Japanese flavors, the restaurant has carved out a niche for itself in Singapore's dining scene. Whether you are a Japanese food aficionado or simply looking for a memorable dining experience, Monster Planet is sure to leave a lasting impression on your taste buds and heart.
Gyunion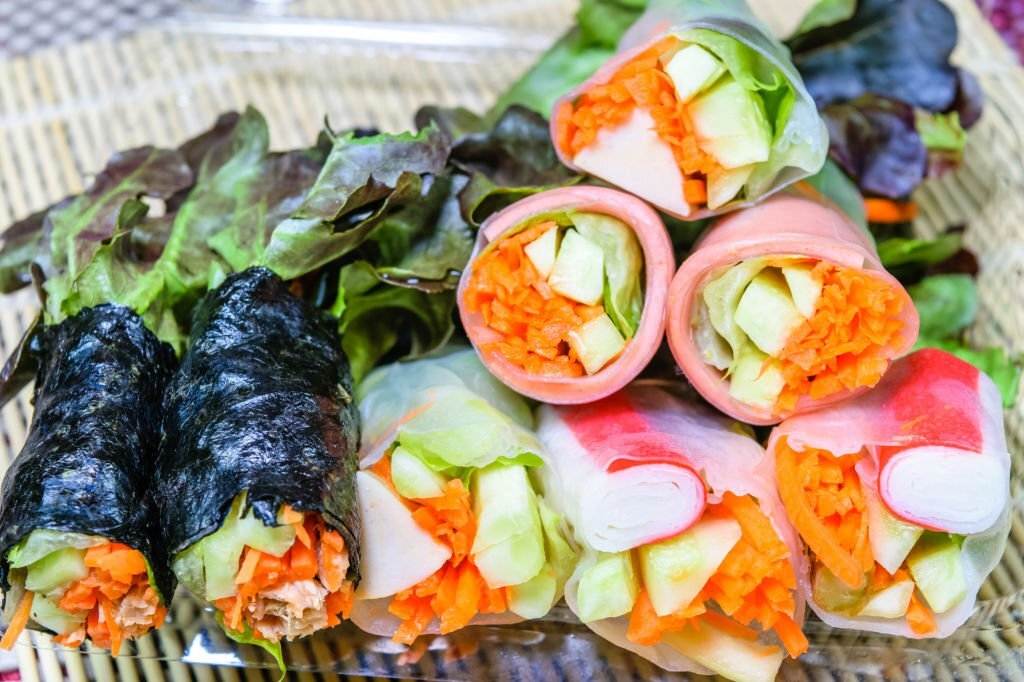 Rating: 4.5/5
Opening Hours: Monday to Friday (10:00 am to 9:30 pm)
Address: 138 ROBINSON ROAD Singapore 068906
Menu
Recommended dishes: Chichekn don with Curry Sauce, Chessy Gyu-don, Spicy Gyu-men, Dragon Roll, Wagyu Yakiniku and Tamago.
Unforgettable Fusion of Flavors
Nestled in the heart of Singapore, Gyunion opened its doors with a mission to introduce a halal twist to traditional Japanese cuisine. Founded by a group of passionate food enthusiasts, the restaurant aimed to create an inclusive and enjoyable dining experience for everyone, regardless of their dietary preferences.
What sets Gyunion apart from other Japanese restaurants is its commitment to maintaining halal integrity while staying true to the essence of Japanese cooking. The restaurant's talented team of chefs has mastered the art of blending halal-certified ingredients with authentic Japanese recipes, ensuring that the taste and quality remain uncompromised.
Savoring Signature Delights
Gyunion's menu is a treasure trove of delightful dishes that cater to all palates. From succulent sushi rolls to sizzling teppanyaki and comforting ramen, there is something for everyone. Vegetarian and vegan options are also available, making it an ideal spot for groups with diverse dietary needs.
Signature dishes include the "Gyunion Dragon Roll," a delectable maki roll filled with grilled eel, avocado, and cucumber, topped with a drizzle of savory teriyaki sauce. Another favorite is the "Wagyu Yakiniku," featuring tender halal-certified Wagyu beef grilled to perfection, served with an array of tantalizing dipping sauces.
Unforgettable Experience
One of the most significant aspects of Gyunion is its ability to bring people from diverse backgrounds together through the love of food. Families, friends, and colleagues of different cultures can enjoy a harmonious dining experience, sharing in the joy of relishing authentic Japanese dishes in a halal environment.
Whether you're a Japanese cuisine aficionado or someone looking to explore new culinary horizons, Gyunion promises an unforgettable dining experience that seamlessly blends halal and Japanese traditions into a delectable fusion of flavors.
Junshin Express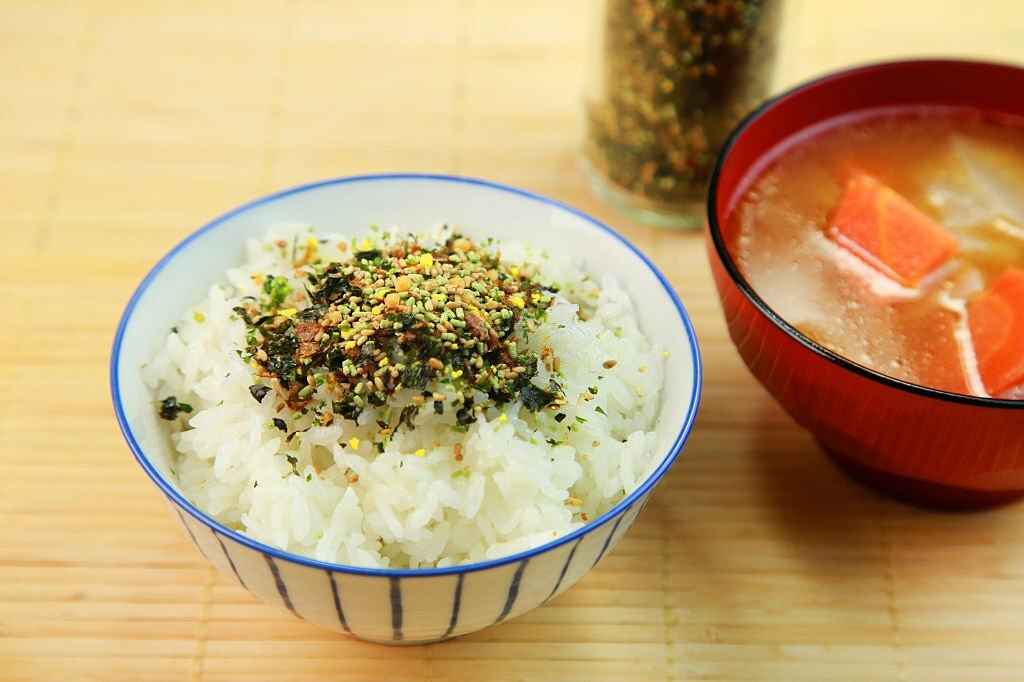 Rating: 4/5
Opening Hours: Monday to Sunday (10:00 am to 9:00 pm)
Address: 311 New Upper Changi Road Bedok Mall Singapore 467360
Contact: +65 6844 9448
Menu
Recommended dishes: Chicken Teriyaki Don, Ramen Bowls, Custard Pau,Chuka Hotate and California Temaki.
Unique Culinary Fusion
Offering a delightful fusion of traditional Japanese cuisine and Islamic dietary requirements, Junshin Express has become a go-to destination for both locals and tourists seeking an exquisite and inclusive dining experience.
At Junshin Express, the Halal concept is at the heart of everything they do. The restaurant is committed to providing Muslim patrons with a safe and welcoming environment where they can indulge in Japanese delicacies without any concerns about the food's preparation or ingredients.
What sets Junshin Express apart is its dedication to preserving the authenticity of Japanese cuisine while ensuring it meets Halal requirements. The restaurant takes pride in using the freshest ingredients and traditional cooking techniques to craft a menu that reflects the true essence of Japan's culinary heritage.
Menu for Every Palate
The menu at Junshin Express boasts a diverse range of options, catering to various preferences and tastes. Whether you're a fan of seafood, a lover of grilled meats, or a vegetarian seeking delectable choices, Junshin Express has something for everyone.
Try their signature sushi rolls, expertly crafted with premium ingredients, or savor their hearty ramen bowls, brimming with rich umami flavors. Don't miss the delightful bento boxes, offering a satisfying mix of assorted Japanese delights in a single meal.
Beacon of Culinary Excellence
Junshin Express has emerged as a beacon of culinary excellence, presenting Halal Japanese cuisine to the diverse food scene in Singapore. Combining the authentic flavors of Japan with Halal-certified ingredients, the restaurant opens its doors to both Japanese cuisine aficionados and Muslim diners seeking a memorable and inclusive culinary adventure.
Conclusion
Halal Japanese restaurants have made a significant impact on the culinary landscape of Singapore, offering a delightful fusion of Japanese flavors and Muslim-friendly cuisine. Throughout this article, we have explored the rise in popularity of these establishments, highlighting their commitment to adhering to strict Halal guidelines while delivering authentic Japanese dishes.
Singapore's diverse and multicultural society has warmly embraced these Halal Japanese restaurants, catering to the growing Muslim population and attracting diners from all walks of life. With their meticulous sourcing of Halal-certified ingredients and culinary expertise, these restaurants have managed to recreate the essence of Japanese gastronomy without compromising on taste or quality.
As the demand for Halal options continues to grow, it is evident that Halal Japanese restaurants in Singapore will play an integral role in shaping the future of the city's dining scene. With their innovative menus, warm hospitality, and commitment to inclusivity, these establishments are set to leave a lasting impression on the nation's gastronomic landscape.
Moreover, the presence of Halal Japanese restaurants has not only brought joy to Muslim diners but also fostered greater understanding and appreciation of Japanese culture and cuisine among non-Muslim communities. Through these culinary bridges, Singaporeans have come together to celebrate diversity and shared experiences.