When it comes to travel, Changi Airport in Singapore has consistently been hailed as one of the world's best airports. Apart from its renowned efficiency and state-of-the-art facilities, Changi Airport takes great pride in its diverse culinary offerings that cater to travelers from all walks of life. Among the varied culinary delights, one aspect that stands out prominently is the presence of an array of Halal restaurants.
For Muslim travelers, finding Halal food options in an airport can often be a challenging task. However, at Changi Airport, these travelers are not only welcomed but embraced with an impressive selection of Halal-certified eateries. Whether you are a frequent flyer or just passing through, the airport's commitment to serving delicious and authentic Halal cuisine adds an extra layer of comfort and convenience to your journey.
From vibrant food courts offering tantalizing local dishes to international gourmet restaurants boasting exquisite flavors, we explore the diverse range of Halal dining experiences available. As we navigate through the airport's terminals, we will highlight the must-visit Halal restaurants, each with its unique culinary specialties and cultural influences.
Join us as we embark on a tantalizing adventure through the savory haven of Halal restaurants at Changi Airport, where culinary delights from various corners of the world converge to create an unforgettable experience for every palate. Whether you have a brief layover or ample time to spare, rest assured that Changi Airport's Halal dining scene promises to leave you with a profound appreciation for the fusion of flavors that transcend borders and unite diverse cultures.
Top 10 Halal Restaurants in Changi Airport
Elfuego by Collin's
Pezzo
Mamma Mia Trattoria E Caffè
Monster Planet
Poulet Bijou
Earle Swensen's
Sanook Kitchen
Saap Saap Thai
Burger King
Curry Times
Elfuego by Collin's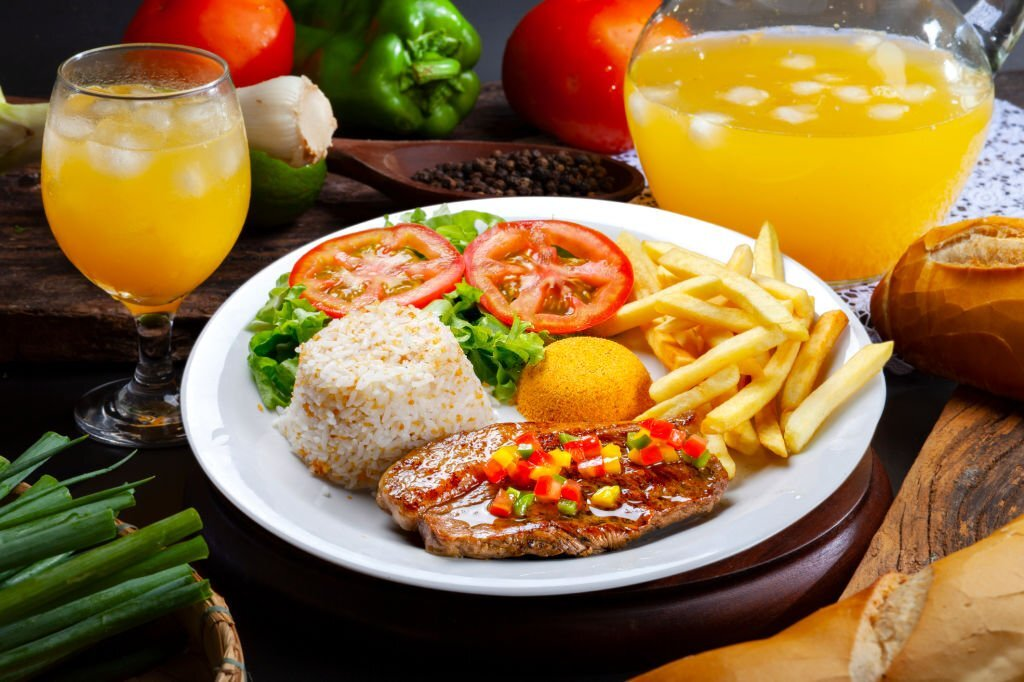 Elfuego by Collin's is a testament to the growing diversity of culinary offerings available at Changi Airport. Catering to the needs of Muslim travelers and locals alike, this restaurant guarantees a halal-certified dining experience, ensuring everyone can relish the flavors without any concern. This commitment to halal practices reassures patrons that they can enjoy a hearty meal while adhering to their religious beliefs.
The highlight of Elfuego by Collin's lies in its exquisite culinary offerings. Led by a team of talented chefs, the restaurant showcases a tantalizing menu that showcases a fusion of various cuisines. From Mediterranean delights to Western classics, diners are in for a treat as they embark on a culinary journey that transcends borders.
Drawing inspiration from the Mediterranean region, Elfuego presents a medley of flavors that pay homage to the culinary traditions of countries like Spain, Greece, and Turkey. Patrons can indulge in savory dishes like succulent kebabs, aromatic grilled meats, and refreshing salads that evoke the essence of Mediterranean cuisine. Each bite takes diners on a voyage of taste, rich with spices and seasonings that awaken the senses.
Elfuego by Collin's also impresses with its inventive take on Western classics. From sumptuous burgers served with a side of crispy fries to perfectly grilled steaks, the restaurant seamlessly marries traditional Western dishes with delightful local twists. This unique blend ensures a memorable dining experience that appeals to both locals and international travelers.
Elfuego by Collin's is more than just a restaurant it is a gateway to exploring Singapore's rich culinary heritage. By embracing the diverse flavors from various cultures, the restaurant exemplifies the harmonious fusion that is quintessentially Singaporean. It allows visitors to immerse themselves in the nation's cultural tapestry through the medium of food.
Elfuego by Collin's at Changi Airport is a beacon of halal dining excellence, offering a tantalizing array of flavors that cater to the diverse palates of travelers and locals alike. With a commitment to halal practices and a menu that blends Mediterranean and Western cuisines with a local touch, the restaurant offers an unforgettable dining experience.
Pezzo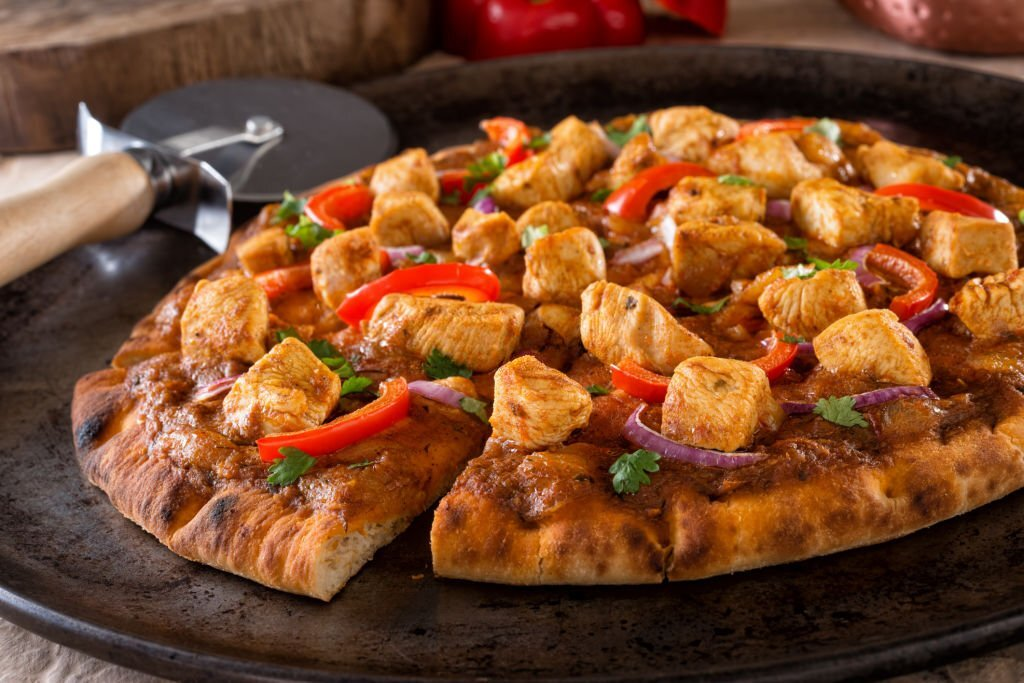 Pezzo, founded in 2012, has quickly become a household name in Singapore and beyond. With its signature rectangular slices of pizza, Pezzo has successfully captured the hearts of food enthusiasts across the island. Its commitment to providing halal-certified products has earned it a loyal following among Muslim travelers and locals alike.
Convenience is the name of the game, especially for travelers with limited time between flights. Pezzo outlets are strategically located in Changi Airport's transit and public areas, ensuring that you can satisfy your cravings for delectable halal pizzas no matter where you are in the airport.
One of the reasons behind Pezzo's popularity lies in its diverse range of pizza flavors. The chefs at Pezzo are culinary maestros, constantly experimenting with unique and creative combinations. From classic favorites like Pepperoni and Hawaiian to innovative creations like Rendang Delight and Satay Temptation, Pezzo has something for everyone.
For those craving a taste of local Singaporean cuisine, the Rendang Delight pizza is a must-try. The tender, succulent rendang chicken pieces combined with a perfect blend of spices and cheese create an explosion of flavors that will leave your taste buds yearning for more.
Alternatively, the Satay Temptation pizza offers a delightful twist on the traditional satay dish. With marinated chicken, creamy peanut sauce, and crunchy cucumber, each bite delivers the authentic taste of satay in the form of a pizza slice.
While Pezzo is famous for its pizzas, it also offers a range of other tantalizing treats. Indulge in their hot and spicy Drumlets, which provide the perfect kick for those seeking a burst of heat. For a lighter option, the Mediterranean-inspired salads are a refreshing delight.
Pezzo outlets at Changi Airport boast a vibrant and inviting ambiance. The cheerful décor and open kitchens allow diners to witness the pizza-making process, adding to the overall dining experience. Whether you're dining alone, with family, or with friends, Pezzo provides a warm and welcoming environment to enjoy your meal.
Pezzo is more than just a halal restaurant; it's a culinary adventure that awaits every traveler passing through Changi Airport. With its diverse pizza flavors, commitment to halal practices, and convenient locations, Pezzo stands as a testament to Singapore's reputation as a food paradise. So, the next time you find yourself at Changi Airport, be sure to savor the delightful offerings at Pezzo and embark on a gastronomic journey that will leave you wanting more.
Mamma Mia Trattoria E Caffè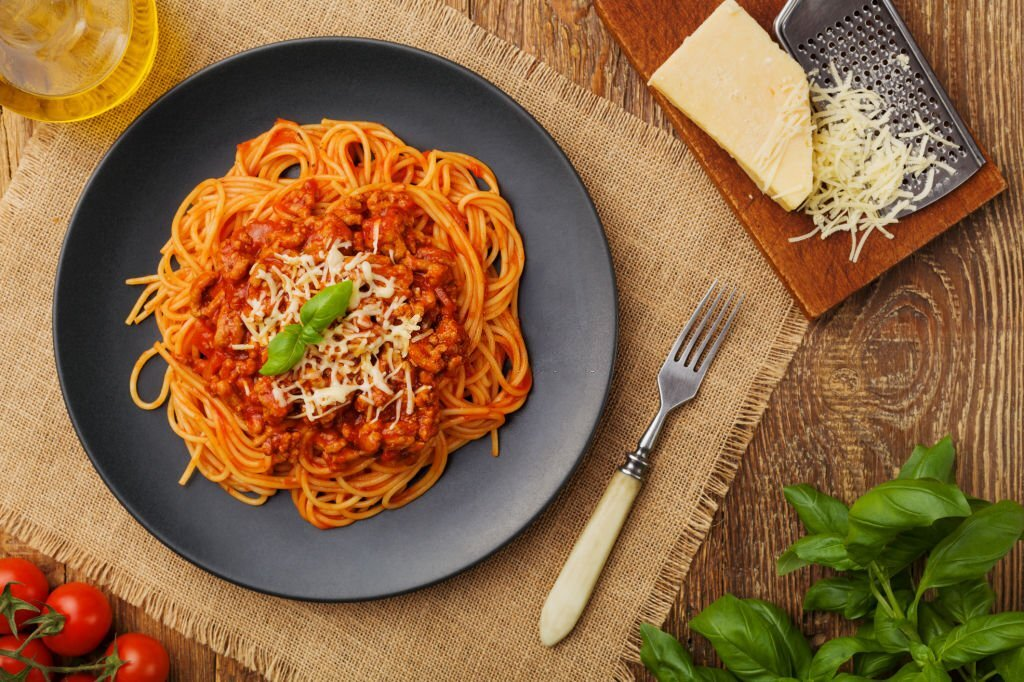 Located within the bustling premises of Singapore's Changi Airport, Mamma Mia Trattoria E Caffè brings the flavors of Italy to the heart of the bustling international travel hub. The restaurant embodies the essence of an Italian trattoria, offering a warm and inviting ambiance, coupled with exceptional hospitality.
One of the restaurant's most remarkable features is its halal certification, which caters to the dietary needs of Muslim patrons. The halal certification ensures that all food and beverages served at Mamma Mia Trattoria E Caffè comply with Islamic dietary laws, providing Muslim diners with a safe and delightful culinary experience.
Mamma Mia Trattoria E Caffè boasts an extensive menu that showcases a wide variety of classic Italian dishes. From hearty pasta dishes to wood-fired oven pizzas, the restaurant captures the essence of Italy's culinary heritage with every dish served.
Pasta Delights choose from a range of perfectly cooked pasta dishes, such as creamy carbonara, rich and robust Bolognese, or a refreshing tomato-based marinara. All pasta dishes are made with the finest ingredients and reflect the traditional Italian flavors.
Pizza Perfection the restaurant's wood-fired oven pizzas are a must-try for any visitor. From the classic Margherita to more adventurous combinations, like the Quattro Formaggi, each pizza is crafted with care and expertise.
Scrumptious Starters to begin the dining experience, diners can enjoy delectable appetizers like bruschetta, arancini, and calamari, each prepared with a touch of Mediterranean flair.
Dolci Delights complete your Italian feast with a selection of sweet treats like tiramisu, panna cotta, or classic cannoli.
Mamma Mia Trattoria E Caffè prides itself on using only the finest and freshest ingredients to craft its dishes. The culinary team takes great care to stay true to authentic Italian recipes, ensuring that diners experience the true taste of Italy.
For Muslim travelers and diners seeking an authentic Italian dining experience, Mamma Mia Trattoria E Caffè is a standout option at Changi Airport. With its halal certification, diverse menu, commitment to quality, and inviting ambiance, the restaurant ensures that every guest leaves with a sense of satisfaction and a taste of Italy in their hearts.
Monster Planet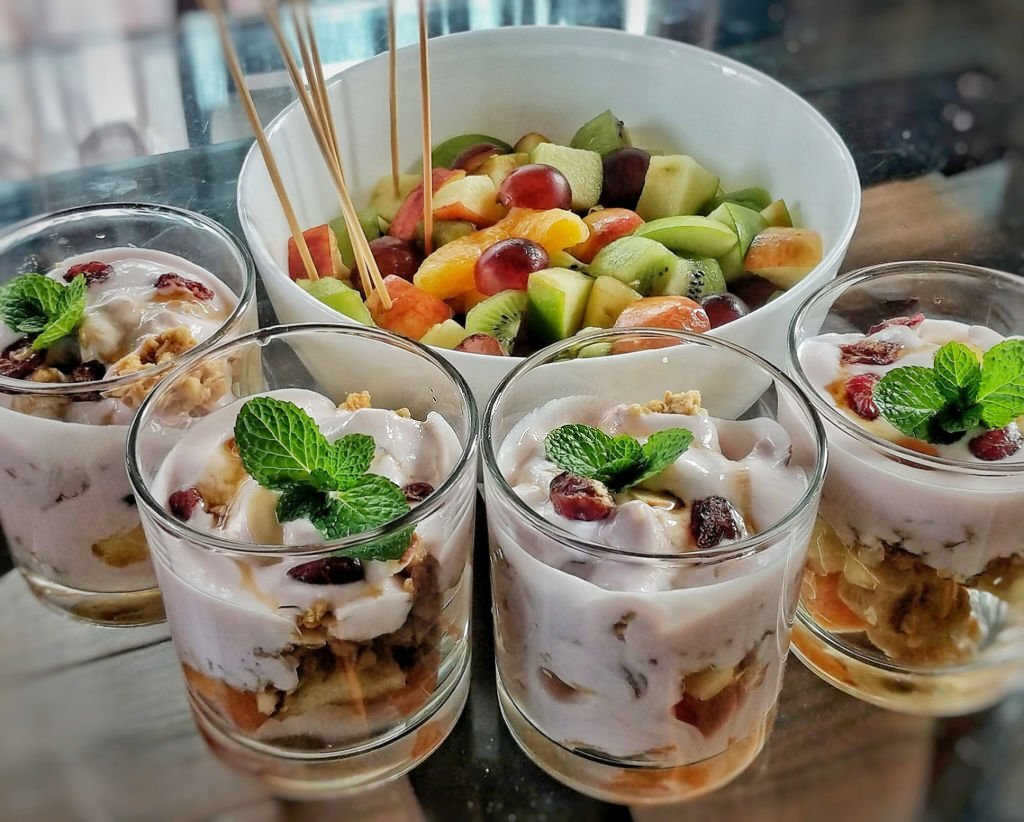 Situated within the vibrant airport complex, Monster Planet offers a haven of halal delights that cater to the discerning tastes of both travelers and residents. The restaurant's commitment to providing a diverse and culturally rich menu ensures that visitors from around the world can indulge in authentic and mouthwatering dishes that adhere to halal standards.
Monster Planet's menu is a testament to the rich tapestry of halal cuisine, featuring an impressive array of dishes from various regions. Whether it's traditional Malay, Middle Eastern, Indian, or Western fare, the restaurant delivers an unforgettable dining experience for every palate. Each dish is crafted with precision and passion, guaranteeing a perfect blend of flavors and textures.
For starters, guests can savor delights such as succulent kebabs, crisp samosas, or refreshing salads, setting the stage for a feast to remember. The main courses offer a symphony of tastes, including aromatic biryanis, flavorful curries, and hearty grilled meats. Vegetarian options are also abundant, ensuring that all dietary preferences are catered to with equal finesse.
No meal at Monster Planet is complete without indulging in their delightful desserts. From creamy rice puddings to decadent baklavas, the sweet treats are the perfect finale to a satisfying meal. The restaurant's beverage selection is equally impressive, with a variety of refreshing mocktails and luscious lassis that perfectly complement the meal.
Monster Planet, a halal culinary haven at Changi Airport, epitomizes the melting pot of flavors that Singapore has to offer. With its wide array of halal dishes, excellent service, and inviting ambiance, the restaurant has earned its reputation as one of the finest dining establishments in the airport. For Muslim travelers and locals alike, Monster Planet provides an opportunity to experience the rich diversity of halal cuisine and leave with a satisfied palate and heart.
Poulet Bijou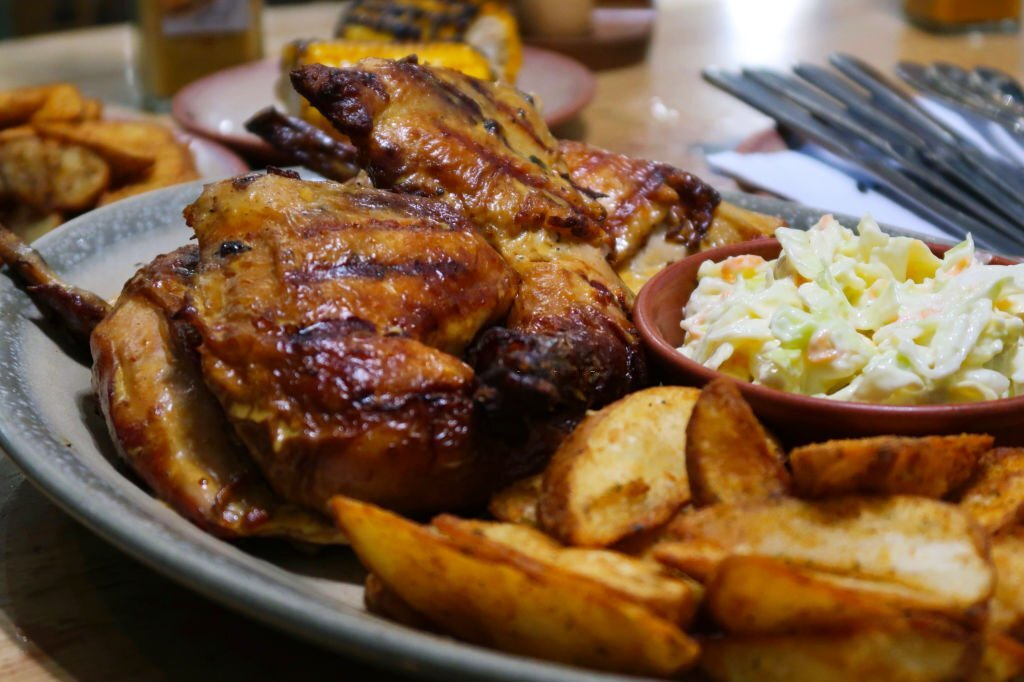 Poulet Bijou, which translates to "Chicken Jewel" in French, lives up to its name by offering a delightful array of dishes centered around one main ingredient: chicken. This unique eatery combines French-inspired culinary techniques with Halal-certified ingredients, creating an experience that is both familiar and adventurous for diners.
Upon entering Poulet Bijou, visitors are welcomed by a warm and inviting ambiance. The restaurant's chic decor, tasteful lighting, and comfortable seating arrangements create a relaxed atmosphere, perfect for travelers looking to unwind and enjoy a satisfying meal. Whether dining alone or with friends and family, Poulet Bijou offers an ideal setting for all.
The menu at Poulet Bijou is a testament to the creativity and innovation of its culinary team. While chicken takes center stage, each dish is thoughtfully crafted with a fusion of flavors. From succulent grilled chicken and creamy pastas to tantalizing rice dishes and refreshing salads, there is something to satisfy every palate.
One of the standout dishes is the "Signature Poulet Roti" – a tender, slow-roasted chicken marinated in a blend of herbs and spices that will leave your taste buds begging for more. For those seeking an adventure in taste, the "Spicy Cajun Poulet" offers a fiery kick that is sure to excite your senses. For the health-conscious, the "Grilled Poulet Salad" is a refreshing option, combining juicy grilled chicken with a medley of greens and a zesty dressing.
Poulet Bijou is a shining example of how Changi Airport continuously strives to cater to the diverse needs of its visitors. By offering a Halal-certified dining option like Poulet Bijou, the airport ensures that all travelers, regardless of their dietary preferences, can enjoy a delightful meal in a comfortable setting.
Whether you are a seasoned food enthusiast or just a traveler looking for a delicious bite, Poulet Bijou is a must-visit when transiting through Changi Airport. With its fusion of flavors, Halal certification, and warm ambiance, Poulet Bijou truly stands as a Halal haven in the heart of the airport – a jewel waiting to be discovered by food enthusiasts from all walks of life.
Earle Swensen's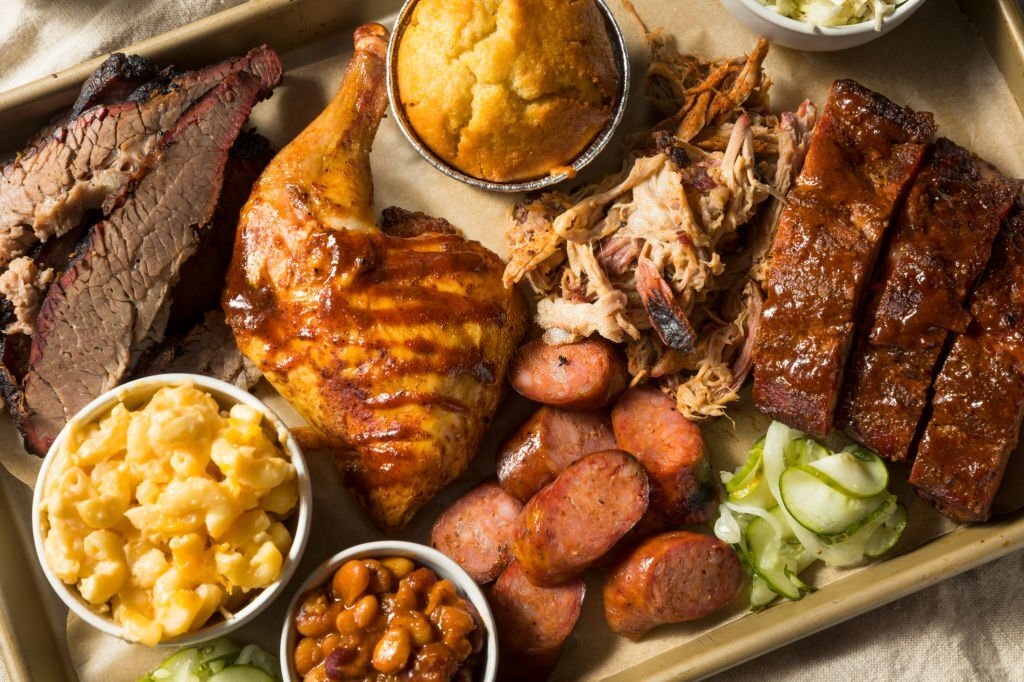 Earle Swensen's, named after its founder, is a well-established dining chain with a rich history dating back to the 1970s. Initially, it was known for its signature ice cream sundaes and classic American fare, but it has since evolved to incorporate diverse cuisines while retaining its original essence. The restaurant's commitment to quality and consistency has earned it a reputation as a family-friendly eatery that values customer satisfaction above all else.
The menu at Earle Swensen's is a culinary journey that fuses international flavors, drawing inspiration from various cuisines. From succulent grilled meats to fresh seafood, vibrant salads, and hearty pasta dishes, the restaurant caters to an extensive range of tastes and preferences. Whether it's a delectable Nasi Goreng or a sizzling barbecue platter, the menu is carefully curated to appeal to both local and international guests.
While the menu features a diverse selection of dishes, Earle Swensen's roots as an ice cream parlor remain evident in their selection of signature ice cream sundaes. Perfectly sweet, rich, and satisfying, these sundaes are a delightful treat for anyone with a sweet tooth. Families and friends can indulge in these timeless desserts while reminiscing about the good old days of classic American diners.
Earle Swensen's at Changi Airport offers more than just a meal it provides a journey through delectable flavors and a piece of history. With its Halal certification, diverse menu, and inviting ambiance, it has become a favorite among Muslim travelers and food enthusiasts alike. As the airport continues to welcome travelers from around the world, Earle Swensen's stands as a testament to Singapore's commitment to providing inclusive and exceptional dining experiences for all.
Sanook Kitchen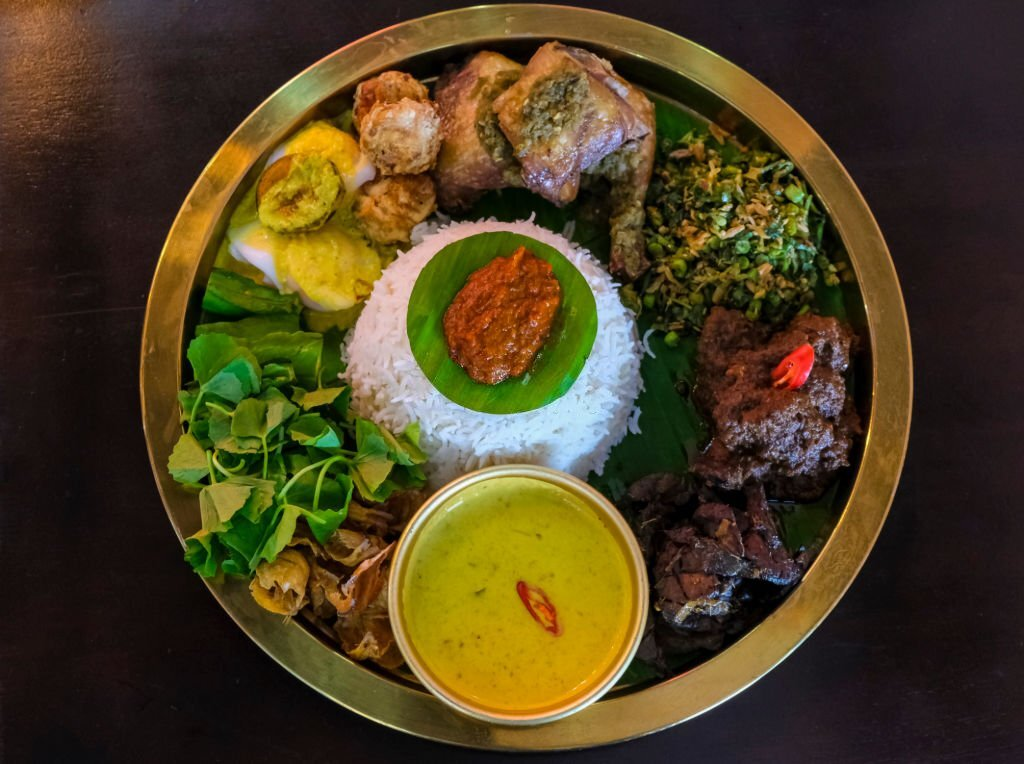 Sanook Kitchen presents itself as an oasis of culinary delights that adhere to Islamic dietary guidelines. Sanook Kitchen is not just another fast-food joint; it is an embodiment of rich Southeast Asian flavors, coupled with warm hospitality and a contemporary ambiance.
Sanook Kitchen takes pride in its diverse menu that caters to various palates. Whether you are craving classic Malay dishes, Indonesian delights, or Thai favorites, this restaurant has it all. One of the highlights of Sanook Kitchen is its Nasi Padang, a mouthwatering Indonesian culinary experience that offers an array of flavorful dishes served with fragrant rice. The Ayam Penyet, a traditional Javanese fried chicken dish, is also a must-try.
For those seeking a taste of Thailand, the Tom Yum Goong and Green Curry are standout dishes that bring an explosion of taste to your taste buds. Each dish is expertly crafted with a perfect balance of spices, herbs, and fresh ingredients, delivering an authentic Southeast Asian experience.
Sanook Kitchen is committed to using only the freshest ingredients in their dishes. From carefully selected herbs to top-quality meat and produce, each element plays a crucial role in enhancing the flavors of the dishes they serve. The chefs at Sanook Kitchen take pride in their culinary expertise, ensuring that the authenticity of each dish is preserved while catering to a diverse audience.
While Sanook Kitchen is a haven for Halal food enthusiasts, it doesn't stop there. The restaurant is attentive to various dietary needs, offering an array of vegetarian and vegan options to cater to all travelers passing through Changi Airport. This inclusivity ensures that everyone can relish the flavors of Southeast Asia at Sanook Kitchen without any limitations.
The next time you find yourself at Changi Airport, make sure to set aside time to savor the flavors of Southeast Asia at Sanook Kitchen. Whether you are in transit or exploring Singapore, a visit to this Halal culinary haven will undoubtedly leave you with a sense of delight and satisfaction. Sanook Kitchen truly represents the spirit of travel—bringing people together through the universal language of food.
Saap Saap Thai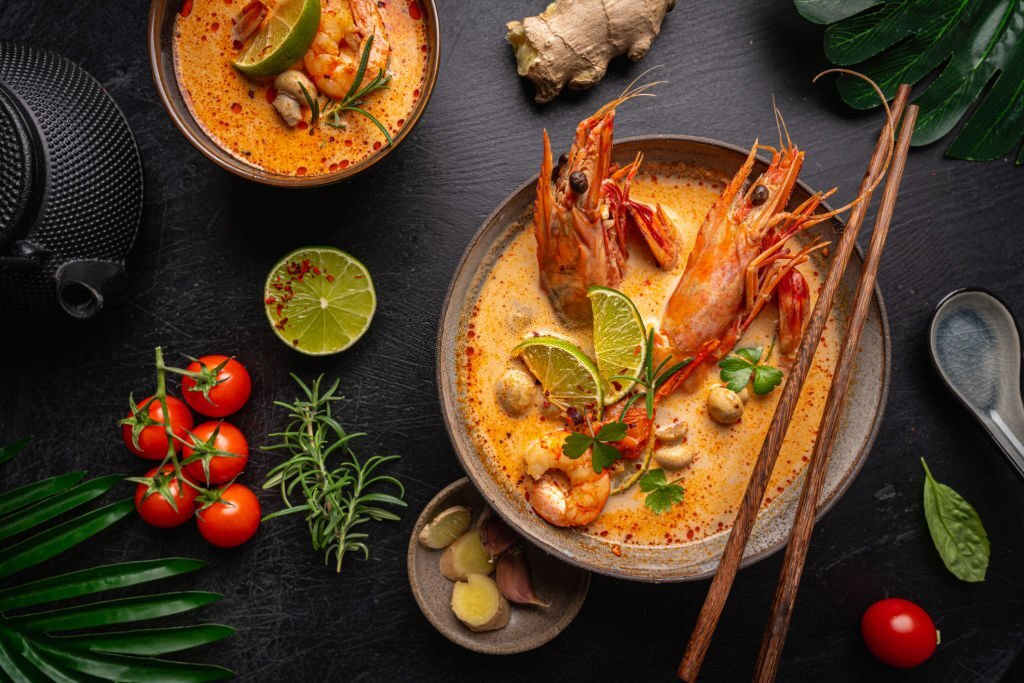 Saap Saap Thai greets guests with a warm and inviting ambiance, evoking the essence of Thailand. The restaurant's interior design, inspired by the vibrant street markets of Bangkok, immerses diners in an authentic Thai dining experience. Traditional Thai decor, vibrant colors, and friendly staff all contribute to the restaurant's welcoming atmosphere, making visitors feel at ease from the moment they step inside.
The heart of Saap Saap Thai lies in its delectable menu, presenting a plethora of traditional Thai dishes that cater to various palates. The skilled chefs use only the freshest halal-certified ingredients to craft an array of flavors, capturing the essence of Thailand's culinary heritage. From aromatic curries and spicy stir-fries to savory soups and flavorful rice dishes, the menu offers a delightful journey through the rich and diverse tastes of Thai cuisine.
Among the must-try dishes at Saap Saap Thai are their signature Pad Thai, a tantalizing stir-fried noodle dish packed with sweet, tangy, and savory flavors. Additionally, the restaurant's Tom Yum Goong, a hot and sour shrimp soup infused with fragrant herbs, is an explosion of taste that lingers on the palate. Vegetarian options like Green Curry with tofu and mixed vegetables are also available, accommodating various dietary preferences.
Saap Saap Thai prides itself on delivering impeccable service to its guests. The attentive and knowledgeable staff are always ready to assist diners in navigating the menu and recommending dishes that suit their preferences. The restaurant's commitment to exceptional service enhances the overall dining experience, leaving a lasting impression on travelers passing through Changi Airport.
Saap Saap Thai is a delightful oasis for Muslim travelers at Changi Airport, offering an authentic and halal-friendly Thai dining experience. With its warm ambiance, genuine Thai flavors, and top-notch service, the restaurant has earned its reputation as a must-visit destination for those seeking delectable halal cuisine.
Burger King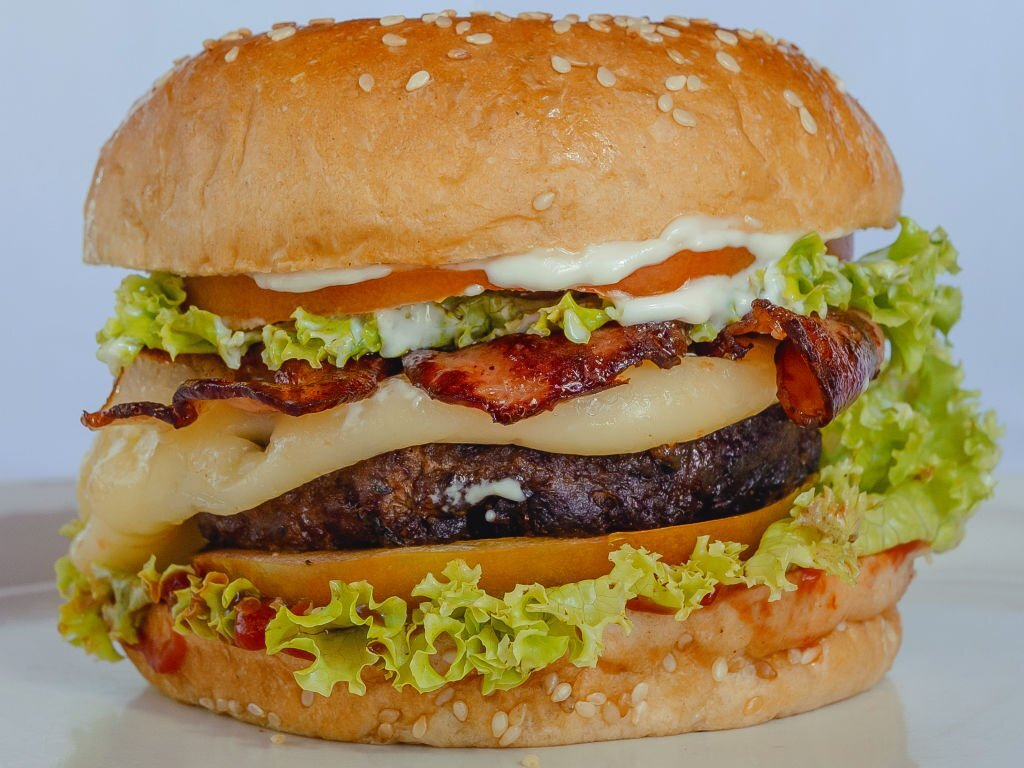 Burger King is a globally recognized fast-food chain, renowned for its flame-grilled burgers and delectable offerings. What sets this particular outlet at Changi Airport apart is its strict adherence to halal standards. The management ensures that all ingredients used in their menu items are certified halal, from the meat to the sauces and toppings. This commitment provides Muslim travelers with peace of mind, knowing they can indulge in a scrumptious meal without compromising their religious beliefs.
Whether you're a fan of classic Whoppers or prefer something different, Burger King at Changi Airport has got you covered. The menu boasts an extensive range of halal-certified options, catering to various preferences and dietary requirements. From the iconic Whopper to mouthwatering chicken burgers, fish fillets, and vegetarian alternatives, there's something for everyone to enjoy. This diverse selection ensures that no matter your taste or background, Burger King satisfies your cravings.
Beyond providing halal options, Burger King is also dedicated to sourcing sustainable and high-quality ingredients. With growing global concern for the environment and responsible consumption, this commitment resonates well with conscious travelers. From their tender beef patties sourced from verified suppliers to the use of fresh produce, Burger King aims to deliver a delicious experience without compromising on ethics.
Apart from its delicious halal offerings and quick service, Burger King at Changi Airport provides a comfortable dining environment. This is especially appreciated by travelers who may have long layovers or are in need of a relaxing break. The restaurant's seating arrangements and pleasant ambiance create a welcoming space for diners to enjoy their meals before continuing their journey.
When it comes to halal dining at Changi Airport, Burger King stands out as a reliable and delicious choice. With its unwavering commitment to halal standards, diverse menu offerings, sustainable ingredients, and convenient locations, this fast-food chain caters to the needs of Muslim travelers from around the world.
Curry Times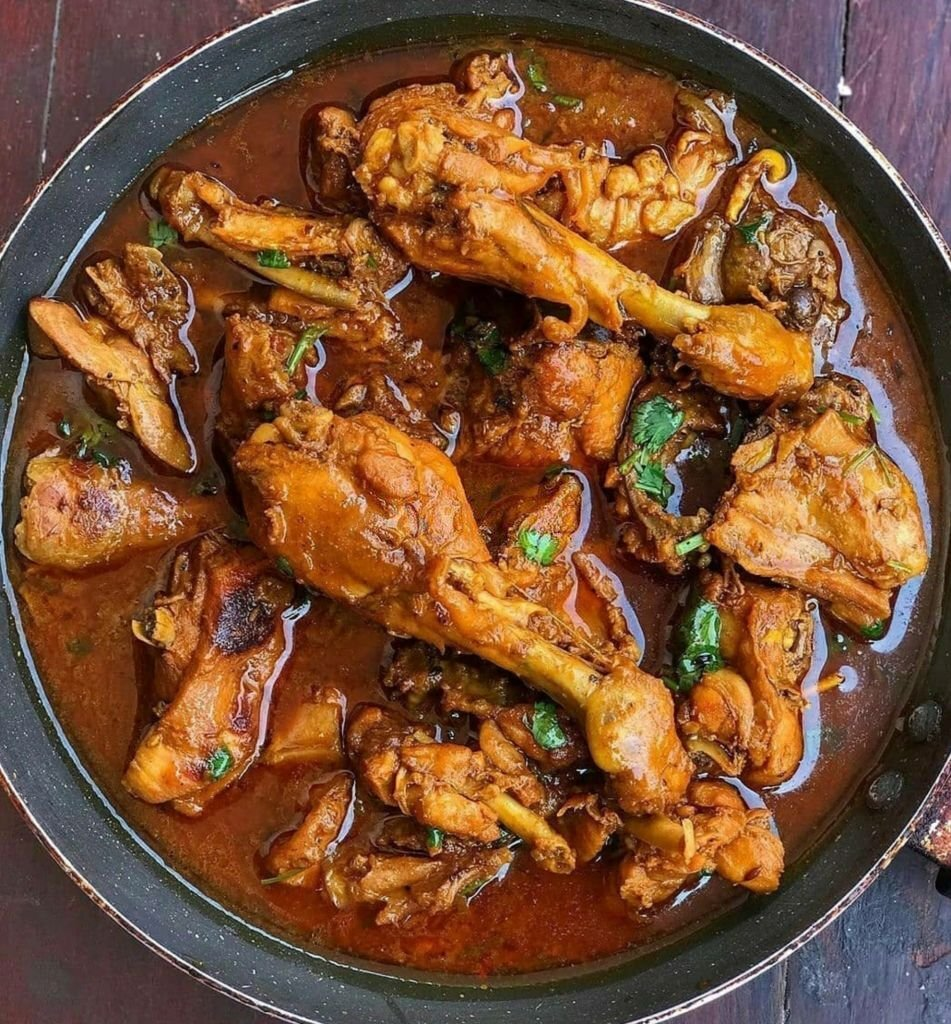 The menu at Curry Times presents a delightful array of dishes, each a testament to the mastery of traditional spice blending and cooking techniques. From classic favorites like Hainanese Chicken Rice to Nasi Lemak and Roti Prata, the menu encapsulates the authentic essence of Malay and Indian cuisines.
The highlight of the menu is, of course, the diverse range of curry options available. Guests can choose from a selection of aromatic curries such as Chicken Curry, Beef Rendang, and Vegetable Curry. For those seeking a fiery experience, the restaurant even offers a 'spicy scale,' allowing diners to customize the level of heat according to their preference.
As diners' step into Curry Times, they are welcomed by an ambiance that transports them to the heart of Southeast Asia. The restaurant's interiors exude a warm and inviting atmosphere, complete with traditional wooden furnishings and tasteful decor that pays homage to the region's cultural heritage. Whether dining with family or enjoying a solo meal, Curry Times offers a comfortable and immersive experience.
The true essence of Curry Times lies in its culinary experience. The talented chefs skillfully infuse each dish with the perfect balance of spices, ensuring a delightful journey for the senses. The aroma of freshly ground spices wafts through the air, tantalizing taste buds even before the first bite.
The dishes are not only a treat for the palate but also a feast for the eyes. Vibrant colors, artful plating, and fresh ingredients all come together to create a visual spectacle that complements the flavorful journey. Diners can enjoy a symphony of flavors with every mouthful, from the rich and creamy curries to the crispy and fluffy Roti Prata.
Curry Times at Changi Airport is more than just a dining option for travelers it is a celebration of the rich culinary heritage of Southeast Asia. Offering a diverse menu of halal-certified delights, Curry Times invites visitors to embark on a gastronomic journey that will leave a lasting impression.
Whether it's a quick layover or a leisurely stopover, Curry Times is a must-visit destination for all food enthusiasts passing through Changi Airport. The restaurant's commitment to halal cuisine, combined with the aromatic flavors of its dishes and the warm ambiance, promises an unforgettable dining experience for every traveler.
Conclusion
Throughout the article, we have explored the diverse array of Halal dining options available at Changi Airport, ranging from local Singaporean delights to international cuisines from various Muslim-majority countries. These restaurants not only serve delicious Halal dishes but also provide a space for travelers to savor the richness of cultural traditions and authentic flavors.
Furthermore, the presence of Halal restaurants in Changi Airport goes beyond mere accommodation; it reflects the airport's deep respect for cultural diversity and its aim to create an inclusive and welcoming environment for everyone. It allows Muslim travelers to embark on their journeys with ease, without compromising their religious beliefs.
Changi Airport's commitment to continuously expanding and diversifying its Halal dining offerings demonstrates its dedication to adapting to the ever-changing needs and preferences of its global audience. As the world's most awarded airport, Changi sets a commendable example for other airports and establishments around the world to follow, emphasizing the importance of catering to the unique requirements of all travelers.